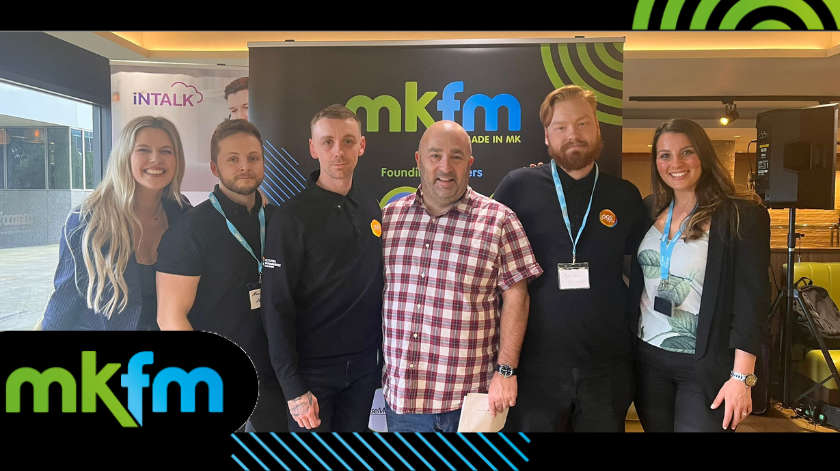 MKFM is delighted to announce that local business Facilities Management Solutions is joining forces as headline sponsor of the Meet of MK to help continue the growth of the monthly event.
MKFM started the Meet of MK in 2017 as a way of bringing its advertisers and supporters together for MKFM to be able to provide regular business and community updates.
Due to the events popularity MKFM opened the Meet of MK up to the wider business community and has watched the event grow with a minimum of 100 businesses and charities now attending each month at Marco's New York Italian at Holiday Inn opposite MidSummer Place.
Over the last 12 months, guest speakers at the networking event have included Milton Keynes MPs Iain Stewart and Ben Everitt. After taking part in a Q&A session on his visit to the Meet of MK, Ben Everitt MP was able to take business owner's concerns to Chancellor Jeremy Hunt. Attendees have also had the opportunity to speak to key figures from the city such as Pete Winkelman, the Mayor of Milton Keynes and have had the chance to learn what city status means for local businesses from the Leader of the Council.
The Meet of MK also gives local charities a chance to engage with the community in their fundraising activities. In 2019, IncTablet Electronics made a generous donation to the children's ward at Milton Keynes University Hospital, the business donated tablets to the charity while at the networking event. Milton Keynes Community Foundation also sold over 100 tickets for its car draw during one evening after speaking to guests.
MKFM is delighted to announce that local business Facilities Management Solutions is joining forces as the headline sponsor to keep continue the growth of the monthly event.
Facilities Management Solutions are part of the well-established PGS Group based in Milton Keynes and the Plumbing & Gas Solutions Ltd team has been supporting local businesses since 2010. Facilities Management Solutions work with clients across all sectors, from education and healthcare to warehousing and commercial properties in and around Buckinghamshire, Bedfordshire, Northamptonshire and the surrounding areas.
Jo Ronan, Head of Sales and Advertising at MKFM said: "We launched the Meet of MK 6 years ago and I am so proud to see how far it has come. When we launched the event, we wanted to give local people the chance to network in an informal environment and give clients the chance to get together with nibbles and drinks every month - it is also a great opportunity for us to tell the Milton Keynes business community of what MKFM is contributing locally!
"The Meet of MK now sees over 100 business attend each month and we feel that now is the perfect time to join forces with a local business to help create more opportunity and grow the event even further.
"We are so pleased to announce that the event will now be sponsored by Facilities Management Solutions Ltd and we are so excited to work with the team to provide a great networking event for businesses all over the city."
Managing Director at Facilities Management Solutions, Carl Yeomanson, commented: "We are extremely pleased to create this partnership between MKFM & Facilities Management Solutions. We've attended various events that have been hosted by MKFM over the last couple of years and the business platform they've created is inspiring. Milton Keynes is our home and such an awesome city to do business in, this partnership with the excellent MKFM team is another positive stride forward in our journey."
MKFM's CEO Darren Dorrington added: "Over the last six years the Meet Of MK has had a massive impact in our community. Not only have businesses been able to connect and find new clients, our attendees have been keen to make a difference by getting involved in community projects that MKFM has either headed up or been involved in.
"We are really grateful to everyone who has supported the Meet of MK including the Holiday Inn / Marco's New York Italian and PA provider Ainsley's Entertainment.
"Having Facilities Management Solutions Ltd as our headline sponsor will enable us take the event to the next level with a organisation that shares our community values."
The Meet of MK takes place on the last Thursday of every month, at Marco's New York Italian at the Holiday Inn Central Milton Keynes.
Welcome drinks are served from 5pm, guests can enjoy some of Marco's favourite nibbles as well as network with like-minded local businesses and organisations. There will also be an update of MKFM, a raffle (so bring your business cards), and some guest speakers with the event closing at 7.30pm.
You can find out more or book your tickets for next month's event here.