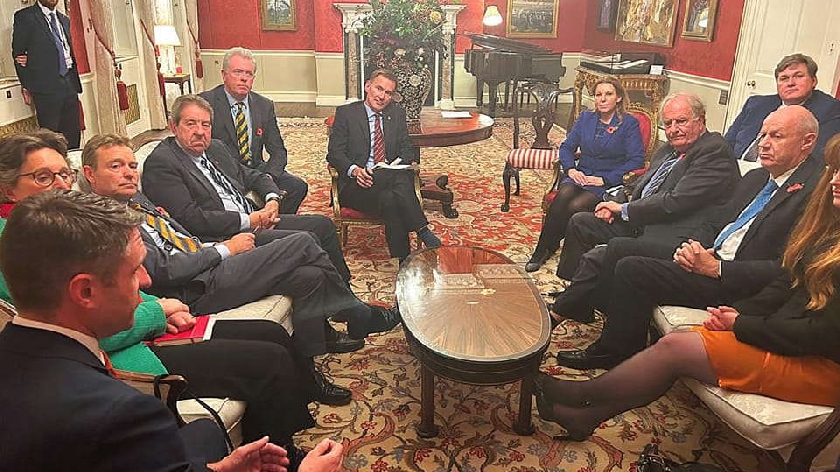 Image: Ben Everitt MP
Ben Everitt, the MP for Milton Keynes North, has met with Chancellor Jeremy Hunt to raise a number of concerns from local businesses ahead of the Autumn Statement next week.
In September, the MP joined local businesses at MKFM's networking event, the Meet of MK, giving business owners the chance to raise any concerns they may have. During a Q&A session, business owners were able to ask questions and pass on feedback to Ben Everitt.
Ben Everitt MP also recently met with local blogger Sophie etc, following an an open letter calling for more to be done to save local businesses amid rising costs.
In a visit to 11 Downing Street, Ben Everitt raised these issues with the Chancellor Jeremy Hunt, telling him that businesses need 'clarity, consistency and certainty', ahead of his Autumn Statement on 17th November.
Ben Everitt MP said: "I've been meeting dozens of businesses across Milton Keynes recently and listening to what they have to say about the biggest issues facing them at the moment and how the Government can help.
"Meeting the Chancellor this week was an important opportunity to show him real life examples of what local businesses in Milton Keynes are currently experiencing. I emphasised they need clarity, consistency and certainty."
"With the Government spending unprecedented amounts to keep businesses afloat and people in jobs during the pandemic, followed by Putin's illegal war in Ukraine, there are no easy options but we must continue to protect the most vulnerable in Milton Keynes."
The Meet of MK is held at Marco's New York Italian in central Milton Keynes on the last Thursday of every month - except for our final event of the year which will be held on Thursday 1st December 2022.
Welcome drinks are served from 5pm, guests will enjoy some of Marco's favourite nibbles, networking with like-minded local businesses and organisations. There will also be an update of MKFM, a raffle (so bring your business cards), and some guest speakers with the event closing at 7.30pm.
You can find out more here.