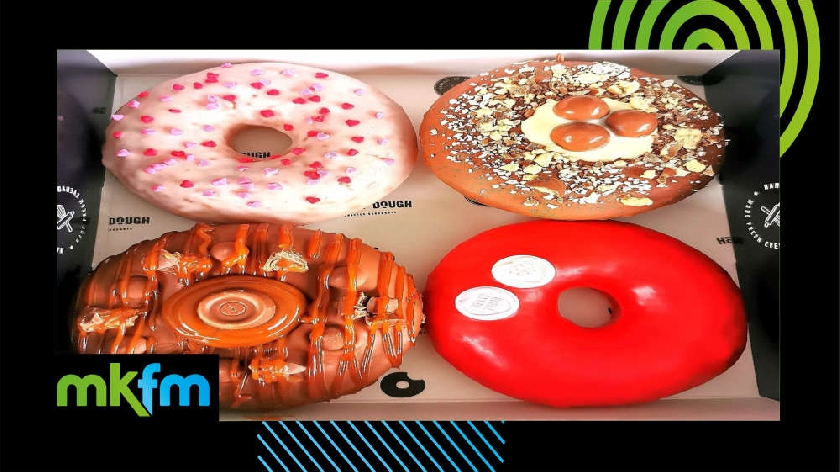 The House of Dough continues to thrive selling beautifully hand-crafted doughnuts in the heart of Stony Stratford Milton Keynes and they have released a new batch for Valentine's Day.
The family-run business started out in the lockdown with what turned from making 1 doughnut into creating and selling hundreds each day, selling out within hours.
The demand for these delicious doughnuts has not stopped since the doors of this bakery-style doughnut shop opened in Swinfen's Yard, back in 2020.
They currently supply to Milton Keynes and surrounding areas but depending on location and order quantity they are also happy to deliver to you personally. You can also order online here.
As well as running the shop, owners, Luke and Hannah also attend lots of events in and around Milton Keynes and further afield and also supply yummy sweet treats for parties, weddings, corporate, or any other large orders that they receive
The House of Dough has also released a new batch of Valentine's Day doughnuts, the perfect sweet gift for your loved one this year.
As shown in the picture, each doughnut has its own uniqueness:
My OG
Vanilla bean glaze sprinkled with mini love hearts.
The Teaser
Belgian chocolate glaze filled with white chocolate, topped with Malteser crumbs and white chocolate flakes.
My Last Rolo
Belgian chocolate glaze filled with caramel and topped with chocolate chunks, and pieces of Rolo, drizzled with caramel.
Valentine's Glaze
Red icing glaze with love heart candy.
Pop into the shop for Valentine's Day and grab yours, or you can order online here.
Contact: 01908 564509
Location: 8 Swinfen's Yard, Milton Keynes, MK11 1SY
Find out more and keep up to date with the latest here.