Have you ever had a traditional Punjabi Breakfast? Jodie Erica from MK's Finest was invited down by Namji in Xscape to experience it herself for the very first time and here's her review...
This beautifully decorated restaurant is located inside the Xscape building in Central Milton Keynes, easy to find and easy to remember.
You may have already visited Namji in Wolverton but they recently expanded and opened a new restaurant in the heart of Milton Keynes. Running for three years getting stronger and stronger, they have received numerous awards from Trip Advisor including; 'Award of Excellence', Travellers choice 2020, and the local restaurant has featured in many publications.
Naseem, the founder of Namji, also established a charity organization called 'Give Back 2 U' which supports and empowers women as well as provides meals every week to the homeless and the vulnerable. Naseem is greatly known and loved for her passion and support when it comes to community. During the pandemic, she established a soup kitchen to support struggling families, and still to this day, Namji is the only restaurant in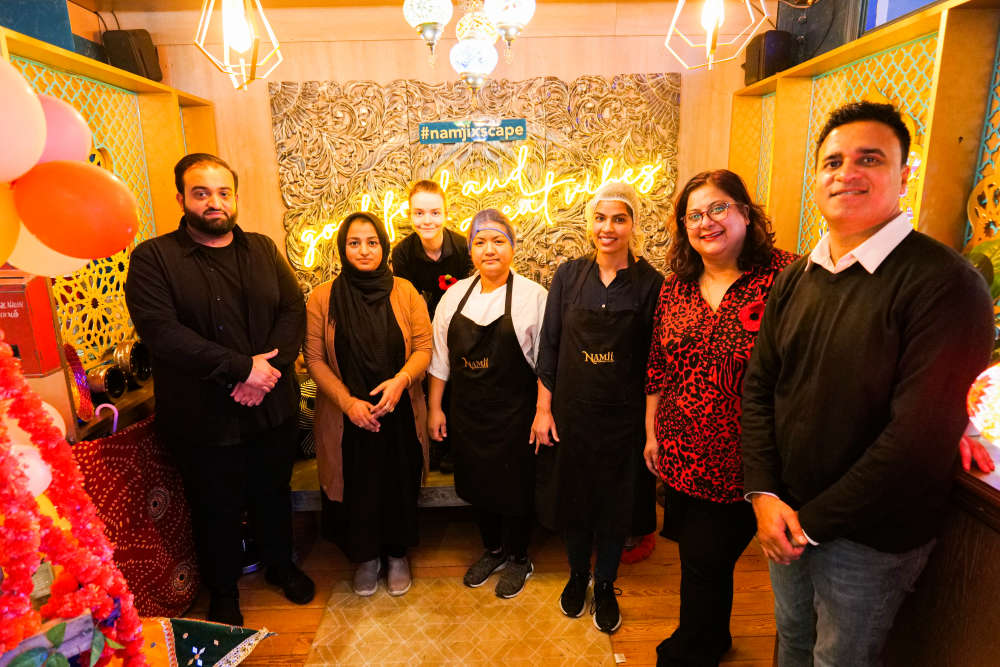 Milton Keynes that has a soup kitchen.
Venue
I have heard such amazing things with regard to Namji, so I was very excited to experience it for myself. "You can't live a full life on an empty stomach" is quoted on Namji's website and I can honestly say that they live up to this. Upon arrival the first thing that caught my eye was the vibrant colours and decorations - there were neon lights above a beautifully put together chilling/selfie corner saying "good food, great vibes", I was in awe.
The entire restaurant is designed and decorated with beautiful blues and glamourous golds, there's lots of pretty coloured Punjabi décor placed throughout and uplifting lighting. There is also an upstairs for further seating, events, and parties.
Food
I was made to feel so welcome as I was greeted by the lovely kind-hearted Naseem and her staff. They helped me get settled and relaxed and always made sure that I was okay. They helped me understand each dish that was presented and explained all of the flavours and the best ways for it to be eaten. This was great for an individual like myself who is not familiar with Punjabi dishes.
I had the pleasure of tasting a variety of breakfast dishes such as crispy stuffed Paratha, Punjabi Halwa Puri, pancakes and to top it off - chai tea on the side. With the Punjabi Halwa Puri, every portion contains Chana or Aloo with Halwa and two fluffy delicious puries, we also got to try pumpkin Halwa which was my favourite, so tasty.
The Paratha Aloo was also very flavoursome and I could feel the warmth whilst eating it. If you like a bit of heat and spice then you should definitely head over to Namji's. The portions are also big so I can assure you, you will leave with a full and satisfied belly.
There is so much more to their extensive breakfast selection and menu as a whole. For example, you could indulge in Namji's English Style Nastha which consists of two fried eggs, masala beans, fried mushrooms, sausages, toasted tomato, and toasted bread, or you could try their Traditional Desi Style Omelette and Paratha. This only touches the surface, as I have only experienced Namji's breakfast - but I will certainly be back to try some dinner dishes.
It was a brilliant experience overall. I have to say, I'm not usually very good when it comes to eating spicy food and I had never tried a traditional Punjabi breakfast before. However, I am willing to train my tastebuds at Namji's! The flavours were beautiful and addictive. Not only was the food impressive but so was their hospitality and atmosphere, what a wonderful team.
Namji is super central and easily located in Milton Keynes' iconic Xscape building. Get yourself booked in or walk in, they are open every day Monday – Sunday 8:00 AM until 23:00 PM.
Check out my video review here.