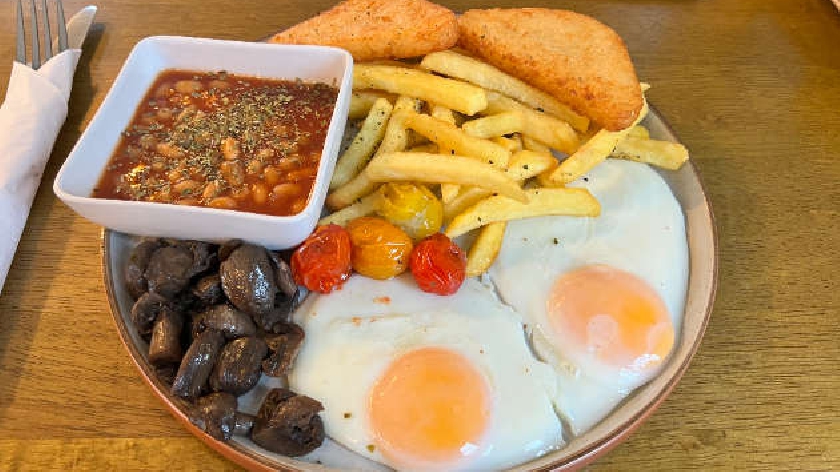 Jodie Erica visits Greek Grill Cafe to try their delicious looking vegetarian breakfast, here is her full review...
I have never been to Greek Grill Cafe before but I am so happy that they invited me down to try their vegetarian breakfast, I will most certainly be visiting again.
They have a car park outside so if you drive, there is plenty of room to park your car. The outside of the cafe looks small but honestly, it's very deceiving, when you step inside it's a really nice and spacious sized cafe, plus, they have a big spacious area at the back where you can sit and eat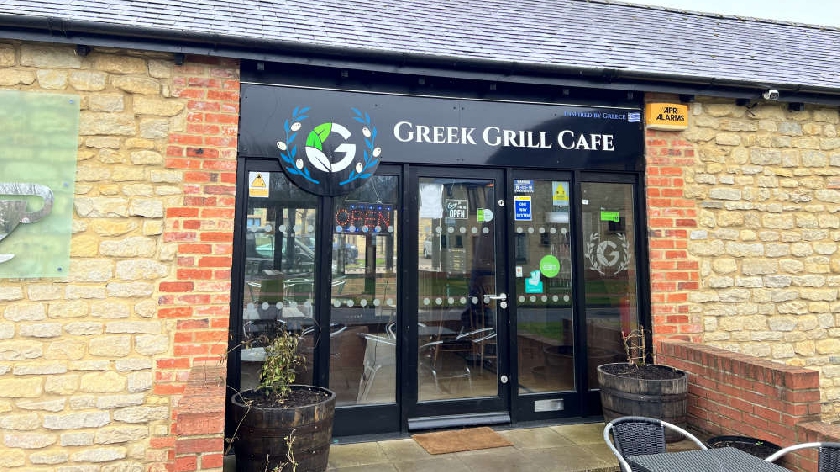 outside. I, unfortunately, chose a day that turned out pretty to be pretty miserable, although, Greek Grill Cafe made the day feel quite the opposite! I will be making sure that the next time I go it will be a nice sunny day, so I can indulge in another one of their vegetarian breakfasts in their lovely outside seating area.
I absolutely love the style of the cafe, it's very simple but unique as they have chosen very quirky accent colours amongst gorgeous and cosy-looking furniture. They had touches of vintage splashed around as you can see in the images, I noticed the framed images hanging on the walls as well as what looks like a carpet but I live for the eccentric-ness, it gives the cafe a really cool and edgy touch. I am always happy in a place that homes flowers and plants, very refreshing and Greek Grill Cafe has a good few! a beautiful addition to the cafe.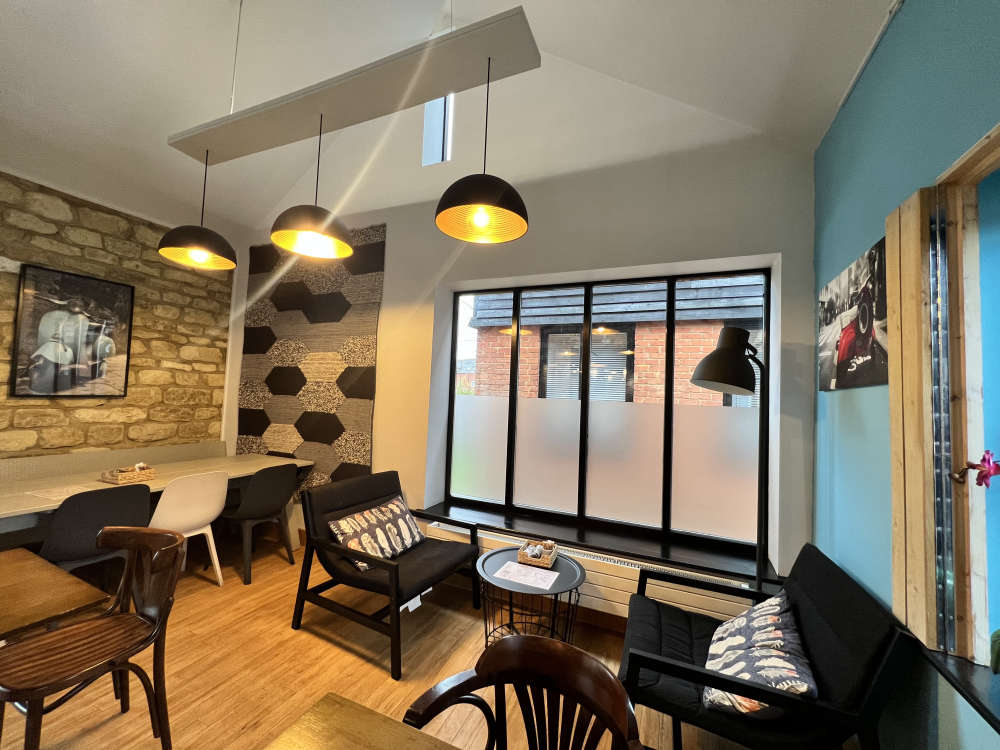 When I am sitting in a cafe like Greek Grill Cafe, which looks the way it does, I instantly feel comfortable and relaxed as the environment is very important to me. It is the perfect place for me to grab some food and a latte and do some work, I'm sure it will be the perfect place for others in Milton Keynes who favour the same things as me.
Greek Grill Cafe serve contemporary Greek cuisine and these dishes are their own family favourites. They cater for breakfasts lunch and dinner, you can order anything from Souvlaki wraps, a Greek-style double cheeseburger, sirloin steak, to a greek salad starter, a full breakfast, or a sandwich and much more, and of course, there are plenty of yummy looking desserts to choose from too.
I had the pleasure of trying the vegetarian breakfast, which has two eggs, two mushrooms, tomatoes, beans and mushrooms, with a lovely latte on the side. I am currently on a gluten-free journey, this is undiagnosed but I feel like gluten foods have been making me feel very ill and have felt so much better since cutting gluten out of my diet so because of this, I had the vegetarian breakfast that is also gluten-free.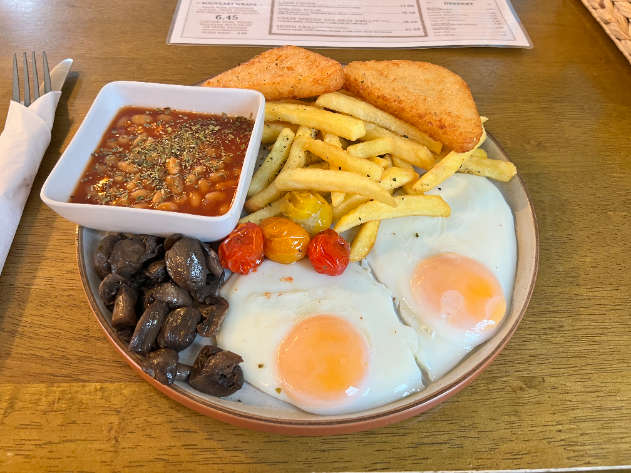 When the breakfast was put in front of me I instantly felt hungry, there is a very generous portion there and it smelt fantastic. I made sure to get some pictures as fast as I could so I could tuck in as quick as possible! the chips were perfectly cooked just the way I like them, I'm not a big fan of chips that are too crispy. The mushrooms were by far the best mushrooms I have ever had, they were different to the usual mushrooms I have eaten as these tasted so sweet and I couldn't get enough. The tomatoes were full of juice and sweetness and added a really nice flavour when eaten together with the chips and beans.
There was Oregano sprinkled onto the beans and the chips and slightly everywhere, but mainly the beans and chips as you can see. Since my visit to Greek Grill Cafe, I have been using Oregano on so much of my food, it adds so much flavour to the simplest of things and I love it. It complimented the breakfast so well, adding an earthy and fresh flavour, especially mixed in with the beans, it was delicious. The hash browns were also cooked just right, not overly done and had the perfect goldy-brown crisp.
Now on to the eggs! another favourite part of this dish for me. Both eggs were done perfectly, which for me, the perfect eggs have to be as runny as possible, and Greek Grill Cafe hit the nail on the head with them. The eggs reminded me of the way my grandad would cook me eggs when I was little, either delicious runny eggs on toast or a perfectly runny egg with soldiers, (if you know, you know!). I have a method when it comes to eating runny eggs, as you can see in my image, this is how you know I am really enjoying my food and that the eggs are spot on, I always cut the edges off and eat the yolk whole... I would love to know if there is anyone else that does the same thing as me?
In a nutshell, it was a beautifully cooked breakfast and I enjoyed every second of it. The portion was that big, I actually started to struggle at the end, it's times like this when you start getting so full but the food tastes so good you just don't want to stop, but I did leave a couple of chips as I just couldn't fit them in!
Overall, a wonderful experience. The staff were so friendly and smiley which makes me smiley and feel very comfortable and relaxed. The atmosphere is lovely and I cannot wait to go back to Greek Grill Cafe in the summer and reunite with another amazing vegetarian breakfast.
You can find their menu and opening times here.