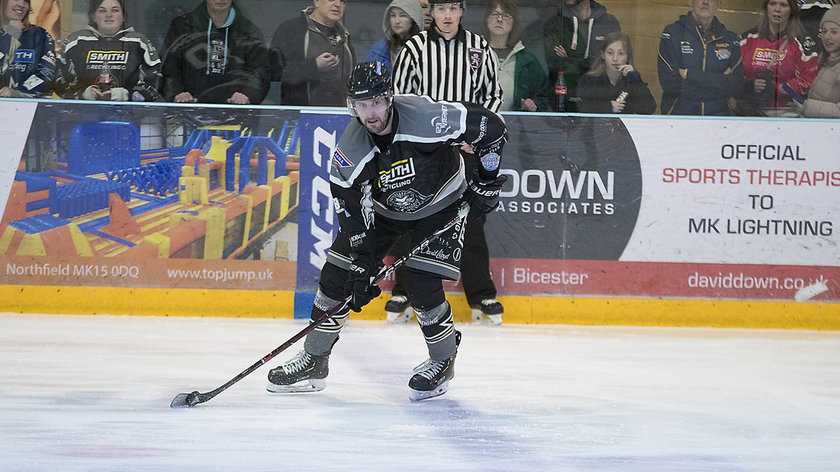 Image Credit: © Tony Sargent
The Smith Recycling Milton Keynes Lightning have today announced that veteran defenceman Leigh Jamieson will return for the club in the 2020/21 NIHL season.
The club legend and fan favourite becomes Lewis Clifford's third signing ahead of the Lightning's second season in the NIHL National, following on from Liam Stewart and James Griffin.
The 34-year-old Milton Keynes native returns after a superb season back with his hometown club, where he registered 13 goals and 53 total points in 47 regular-season games, earning the team's Defenceman of the Year award in the process.
The former Great Britain international has spent the majority of his career with the Lightning, including an eight-year stretch during the old EPIHL days before the team made the step up to the Elite League.
With the Lightning looking to compete for silverware next season, bringing back a player of Jamieson's pedigree is an obvious move for Clifford, who has worked with him many times before.
Commenting on the 6-foot-3, 220lbs blueliner's return, Clifford said: "Obviously it goes without saying that I'm delighted to have Jimba back in the lineup."
"He's a guy who does so much for the team on and off the ice and someone who I completely trust to always have the best interest of the team and his teammates at heart."
"[He] is massively experienced across different leagues and at the highest levels of the game in this country. Although he's one of the older players on the team and celebrated his 500th league game with us last year, he is a player who contributes hugely to the team in all situations."
"There are not many players in the league who can do what he does as demonstrated by finishing as the second-highest point-scoring D man in the league last season."
"[He] knows what it means to be a Lightning player and he will continue to be what he's always been, a great team guy and an asset to the club on and off the ice."
Speaking of his return for the club, Jamieson commented: "I'm thrilled to be back with the Lightning next season. This was an easy decision for me after speaking to Cliff about his plans for next season and the team he is putting together."
"I'm looking forward to building on last season and believe we will be challenging for silverware. It's a privilege and honour to play for such a great club with a fantastic fanbase."