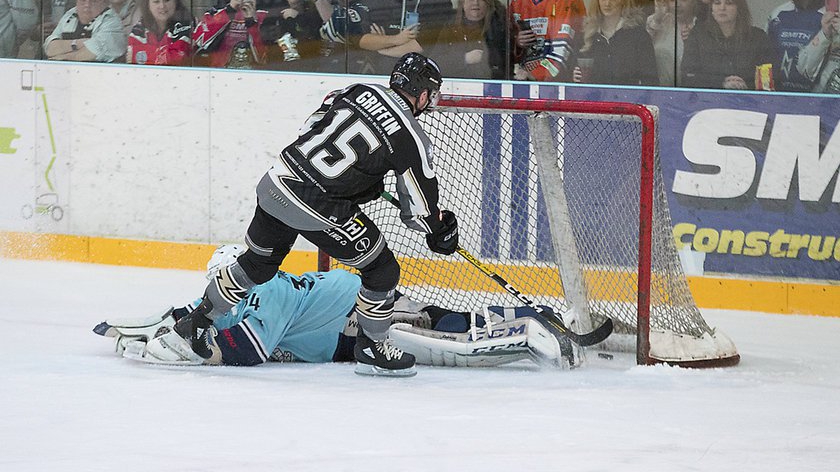 Image Credit: © Tony Sargent
The Smith Recycling Milton Keynes Lightning today announced that defenceman James Griffin will return to the club for a sixth consecutive season.
The 27-year-old blueliner remains with the Lightning, having originally joined the team back during the 2015/16 season after spells with both the Swindon Wildcats and EIHL club the Coventry Blaze.
Griffin, a firm fan favourite amongst the Lightning faithful with 251 regular season appearances under his belt, had a season hampered somewhat by injuries early on, but still contributed at both ends of the ice, with his strong hits helping key opposition forwards at bay while he also contributed eight goals and 18 total points of his own.
For his service and clear leadership skills both on and off the ice, Griffin was named an alternate captain by head coach Lewis Clifford, who will clearly be delighted to have the veteran defenceman back for another year.
Speaking of the signing, Clifford commented: "I'm delighted to have Griff back on the roster and he is a key resigning. He was hit with a few injuries last season, but that's not unexpected for a player who plays the way and puts as much into every shift as he does."
"A fully fit Griff is one of the very top defencemen in this league and I'm really happy that it's our jersey he pulls on every weekend."
He added: "Although he seems like part of the furniture now, you can never underestimate how big of a signing Griff is for us. He's one of the top D men in the league and adds so much to our game in all situations."
Speaking of remaining with the club, Griffin himself said: "I'm delighted to be back with Lightning for another season. Last year was a rollercoaster with injuries, but towards the end of the season we really hit our form."
He added: "I'm looking forward to carrying on from where we left off and challenging for some silverware. I've loved my time in Milton Keynes so far, the fans and staff are what makes this club so amazing and I am always proud to pull on that jersey. I can't wait for the new season to get started!"