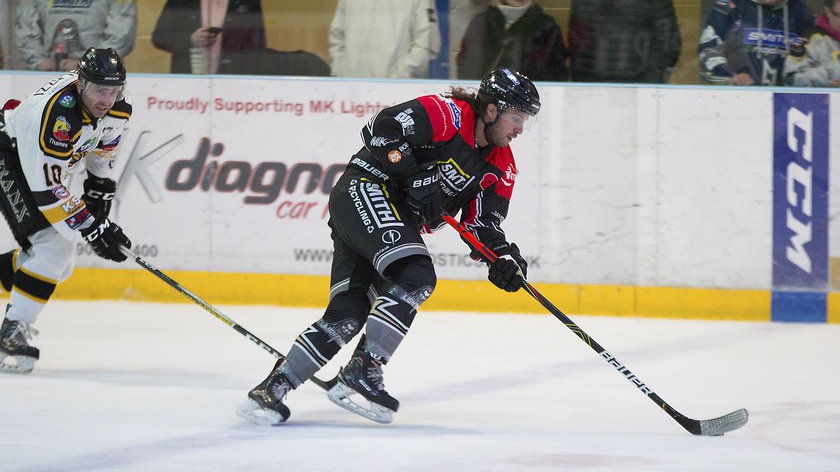 Image Credit: © Tony Sargent
The Smith Recycling Milton Keynes Lightning have announced their first signing of the 2020/21 season.
25-year-old forward Liam Stewart has been announced as re-signing with the club after a series of teaser videos leading up to the final reveal on Valentine's Day.
In the video, Stewart stated: "What up Milton Keynes fans, I just wanted you to be my valentine this Friday and next year as well. See you next season!"
In a further statement, he added: "Obviously I'm super excited to be coming back to MK for another year. It's been an amazing time for me here so far so I thought it was the obvious choice."
"Everyone from the fans, staff and especially the boys in the locker room have been amazing and I think that plays a big part in my decision!"
Lightning head coach Lewis Clifford commented: "Obviously I am delighted to secure Stewy as our first signing for next season."
"I don't think I need to spell out to anyone what his contribution on the ice has been but off the ice, he is a pleasure to have around, easy to work with, he adds a lot of humour to the group and keeps things light."
He concluded: "When the puck drops he is a true competitor and a player who wants to win every single night."
Stewart, affectionately known as 'Disco', has been a dominant force since joining the Lightning earlier this season, registering 28 goals and 40 total points in just 27 regular-season games.
His arrival helped spark the team's impressive turnaround, which sees them currently sitting comfortably in seventh position in the NIHL National league with a record of 18-17-6.
Having Stewart, who could easily make the jump back up into the Elite League, return next season is a great statement of intent from the Lightning organisation, who will be eager to carry the positivity of their first season back in the second tier over into 2020/21.
The announcement video can be watched here: