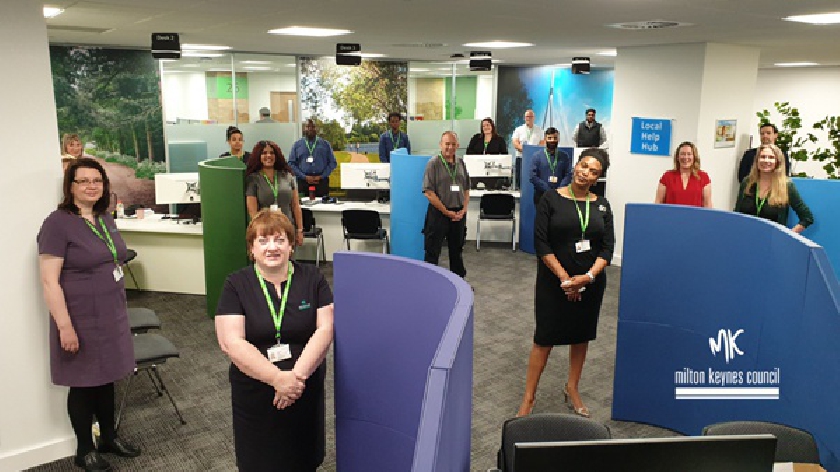 MK Council has launched a new Local Help Hub to help more Milton Keynes residents by phone, as part of managing its response to COVID-19.
At the start of lockdown, the Council quickly set up a local support service to offer help to MK's most vulnerable residents who were shielding or self-isolating. So far over 7,000 people have received essential help such as emergency food or medication deliveries as well as telephone check-ins.
The telephone advice and support has been so popular that the Council has sped up plans to offer more vital services over the phone that could only previously be done in person, including registering deaths, and going forward applying for emergency housing.
The 15-strong Local Help Hub team has been expanded and given more responsibility and training to solve a wider range of customer enquiries via telephone in the first instance.
The launch goes alongside the Council's ongoing work to give local people more control over how and when they apply, report and pay for services around the clock by putting more of its services and systems online.
Currently, Council services are being delivered through a mix of face to face and telephone, email and online support. Essentials such as social care, emergency road repairs, housing safety checks and waste collection are running as usual, with additional precautions to protect customers and staff from the risk of COVID-19. Others have moved to telephone and digital without the need to visit a council building and the city centre Civic office remains closed to visitors.
Cllr Emily Darlington, Cabinet Member for Public Realm said: "We're expecting COVID-19 preventative measures to be in place for some time to come, which is why we've brought forward our investment into the Local Help Hub. Local people have told us how useful it's been to talk to someone on the phone to get help, and it's going to remain important. For many people, being able to order or report something via a button on their phone works best, but telephone will remain a key part of how we help.
"We're investing nearly £1m over the next two years to expand and improve the services we're able to deliver without unnecessary social contact."
The Local Help Hub can be reached on 01908 691691 between 0900am and 1715pm.