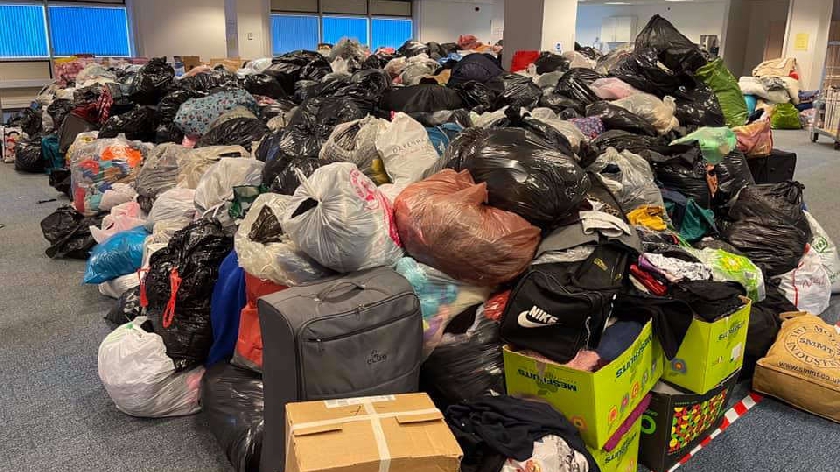 A local councillor has issued an appeal for volunteers to assist with sorting the 'overwhelming' amount of donations that have come through so far.
There are approximately 40 families that have been placed in local emergency accommodation, after fleeing from Afghanistan to escape the Taliban.
They arrived with nothing but the clothes on their back, with one refugee being told that they could only bring "one thing" with them when leaving the country - their child or family photos.
As a result, there have been multiple call-outs for people to donate basic items such as shoes and clothing.
Lib Dem Cllr Paul Trendall (Campbell Park & Old Woughton Ward) shared an appeal on social media and received 3,000 emails, calls and texts in just ten days from people that wanted to help.
The sheer volume of donations has resulted in the team pausing donations for the time being.
Cllr Jane Carr (Lab, Newport Pagnell South), Cllr Emily Darlington (Lab, Bletchley East) and Cllr Trendall are coordinating the effort and believe that there is enough for the current refugees and for those that are placed in accommodation here in the future.
So now, rather than donating physical items, people are being asked to help sort through what has been donated by the kind-hearted community.
A section of Saxon Court has been filled to the brim with hundreds of suitcases, bags, and boxes. Cllr Trendall is now looking for people to spare some time to help filter through the pile.
People that are over 18-years-old and are double-jabbed are being called on to help from 10am to 4pm each day. Cllr Trendall believes that even two hours of volunteering will be a massive help.
If you would like to help then please fill out the form below and we will pass your details on to Cllr Trendall who will then be in touch to discuss the days that they need help.
People are being asked not to just turn up at Saxon Court as there is a chance that there will be too many volunteers and people may be sent away.
Cllr Trendall has also thanked the community for their amazing efforts over the past couple of weeks. He said: "I just want to say an enormous thank you to everybody that has donated. We have had such a wide range of things donated and people have been incredible. The past couple of weeks has made me incredibly proud of the place that I live in."
Donations that are not used by Afghan refugees will be donated to local charities to ensure that they do not go to waste.
READ MORE: Milton Keynes Council thanks residents as they stop taking donations for Afghan refugees at Saxon Court
READ MORE: Local charity donates 'girl packs' of sanitary products to Afghan refugees in Milton Keynes