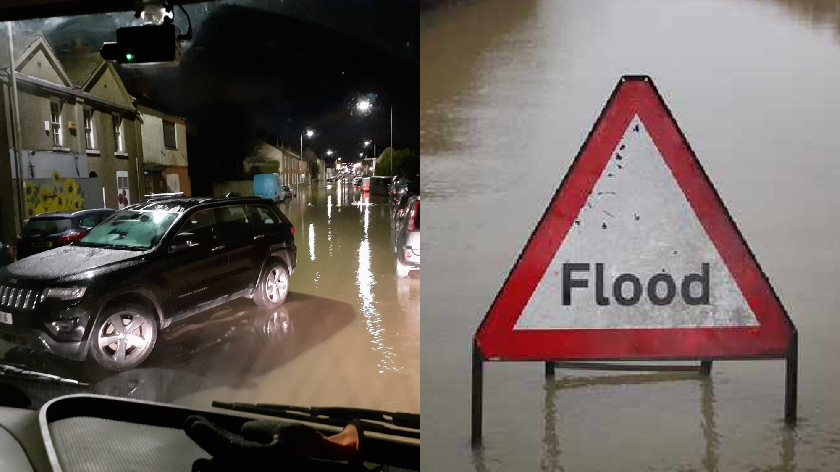 There are currently three flood warnings in force across Milton Keynes from the Environment Agency.
Following a day of heavy rainfall yesterday, a number of areas are facing issues with surface water run off.
MKFM reported earlier that Stony Stratford High Street is currently closed following flooding overnight, with emergency crews distributing sandbags.
Milton Keynes Council say that river levels are currently exceptionally high around Newport Pagnell, New Bradwell and Stony Stratford.
The first flood warning has been issued as river levels are rising at the Newport Pagnell Cemetery river gauge as a result of heavy rainfall.
Consequently, flooding of property in Newport Pagnell is expected from 10am today.
The Environment Agency expect flooding to affect Alexandra Drive, Ranelagh Gardens, Gladstone Close, Osterley Close, Glenwoods, Station Road, High Street, Wolverton Road, Westbury Lane, Lakes Lane, Willen Road, Mill Street, Tickford Street and Priory Street in Newport Pagnell.
There may be further showers today although no further significant rainfall is forecast.
Officials expect river levels to continue rising throughout the day today.
The Environment Agency said: "We are closely monitoring the situation. Our incident response staff are liaising with emergency services. Please avoid contact with flood water and move possessions and valuables off the ground or to safety."
"Please call 999 if you are in immediate danger."
A second warning has also been issued to residents in Caldecote Lane, Willen Road, River Side, Toll House, Woad Farm, Sherington Road and Gallards Farm in Newport Pagnell, and Ravenstone Mill in Ravenstone.
Environment Agency officials say that flooding (of property) is imminent in these areas.
A third warning is in force due to rising river levels at the Thornborough Sluice.
Consequently, the risk of flooding remains. Officials expect flooding to affect Padbury Mill, Thornborough Mill, Thornton College at Thornton, Beachampton and The Mill at Passenham.
The Environment Agency say that the A422 is at risk of being flooded. The roads between Leckhampstead and Wicken, Leckhampstead and Thornborough, and the road between the A422 and Thornton are also at risk of being flooded.
The warnings follow disruption on multiple local roads yesterday, with flooding hitting local roads in Olney as well as causing issues on the M1.