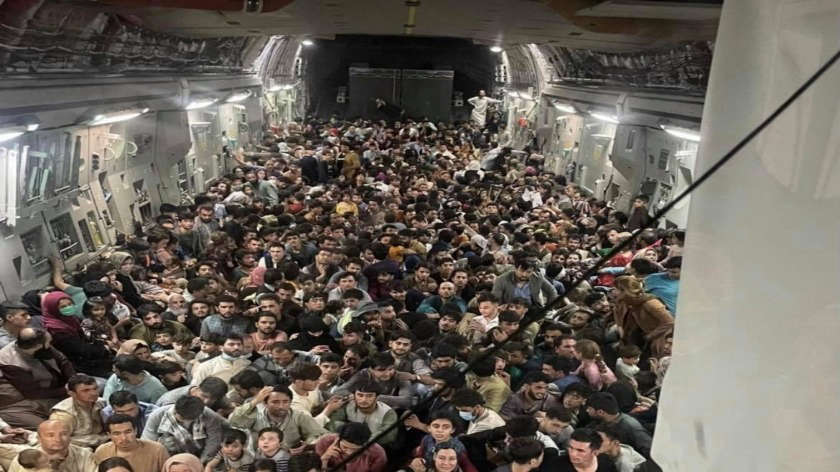 Milton Keynes Liberal Democrats are calling on the Government to make a more ambitious commitment to resettle refugees fleeing the Taliban, and to give Milton Keynes Council extra funding to house and support them here.
The Liberal Democrats have slammed the Government's commitment to resettle just 5,000 Afghan refugees across the UK over the next year, saying it "falls woefully short" of what is needed in response to the unfolding humanitarian crisis.
The party also highlighted that 78 people have been resettled in Milton Keynes since 2014, under the previous Vulnerable Persons Resettlement Scheme for refugees of the conflict in Syria.
Speaking on the situation, Councillor Robin Bradburn, Liberal Democrat Group Leader on Milton Keynes Council, said: "Milton Keynes has a proud record of providing sanctuary to those in need. We have given a new home to 78 refugees fleeing the awful violence in Syria, and I know local people will welcome those escaping the Taliban now too.
"I'm proud that Milton Keynes Council will be signing up to the government resettlement scheme and giving as much help as we can.
"The Government must now live up to its obligations by giving Milton Keynes Council and local authorities across the UK extra funding so we can house, support and integrate these refugees properly."
Alistair Carmichael MP, Liberal Democrat Home Affairs Spokesperson, added: "It's now or never to save innocent people from the terror of the Taliban. The Government must step up urgently and offer safe and legal routes to the UK for Afghan refugees who've been forced to flee their homes.
"A humanitarian crisis is unfolding before our eyes, and Priti Patel's promise to resettle just 5,000 refugees over the next 12 months falls woefully short of meeting that challenge. I know the UK can do far better than that."
Both Milton Keynes MPs have welcomed the Government announcement of £5 million in funding for councils such as Milton Keynes Council to support the refugees they are taking in from Afghanistan.
The Afghan LES (Locally Employed Staff) Housing Costs Fund will provide a top-up to help councils meet the costs of renting properties for those that need it, including larger homes for families. This will help give councils the security to make a firm offer of support to take people into their communities and help them build a new life.
Ben Everitt, the MP for Milton Keynes North, has been in regular contact with the Home Office, Ministry of Defence and the Foreign Office over the last week to discuss the situation and believes the UK should welcome Afghan refugees with open arms.
He said: "We've all been horrified seeing the images on the news over the past week of Afghans trying to escape their home and we are absolutely doing the right thing by opening our arms and taking them in.
"This extra funding for Milton Keynes Council will help them support the refugees we've already taken in here in Milton Keynes, as well as future arrivals, rebuild their lives free from the terror of Taliban rule.
"I'm incredibly proud of the work our Armed Forces have done in Afghanistan over the last 20 years and I'm saddened to see it end this way, but Global Britain can still be a force for good and we are opening our arms to those in need."
Iain Stewart, the MP for Milton Keynes South, commented: "The current situation in Afghanistan has been heartbreaking to watch unfold, with citizens fleeing for their lives.
"That is why I am pleased this Government is supporting those looking to flee from danger and welcoming them with open arms. The funding from the Government to councils to help resettle some Afghan refugees means we can do our small part to help those seeking safe refuge.
"I want to put on record my thanks to our Armed Forces and the UK Embassy workers who are working around the clock to make this all possible."
Alex Walker, the leader of the Conservative Group on Milton Keynes Council, added: "The ongoing situation in Afghanistan is heartbreaking. The images and videos of desperate families fleeing the tyranny of the Taliban is something I know we all hope never to see again.
"I believe Milton Keynes needs to open its arms and give those fleeing, an opportunity to start a new life and this new funding from the Government will give MK Council the support it needs to do just that.
"While I welcome MK Council confirming it will take part in the resettlement scheme I was disappointed it has put caveats on its offer of support – we've got clarity from Government so let's get a move on and support those Afghan refugees in need of our help."
The Government will also offer all those who have fled Afghanistan a first dose of the COVID-19 vaccine on their arrival into the UK and will be issued with a vaccine card.
Alongside taking in refugees the Government is calling for a virtual G7 leaders' summit to ensure a coordinated international response to the crisis and an emergency NATO and UN Security Council meetings to ensure every diplomatic lever is used.
To provide protection and support to evacuating British Nationals and Afghan staff 900 troops and civilian personnel have been deployed and British nationals will be helped to return to the UK with an FCDO rapid deployment team specifically trained to deal with crisis situations.
For more information on the number of refugees resettled under the Vulnerable Persons Resettlement Scheme by local authorities, please click here.
READ MORE - Milton Keynes Council "stands ready" to support fair share of Afghan refugees