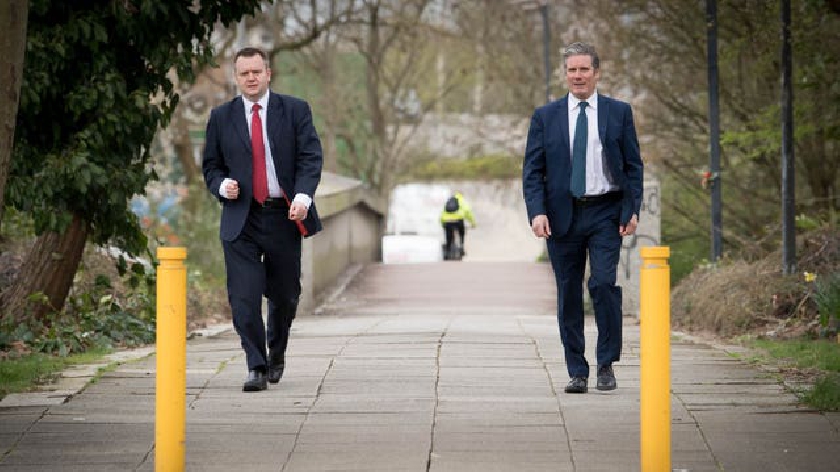 Photo: PA News
Sir Keir Starmer, Leader of the Labour Party, visited Milton Keynes yesterday (29/3) as the local election campaigns are well underway.
The 58-year-old politician, who has been Leader of the Labour Party since 2020, was photographed outside Milton Keynes Police Station.
Speaking to national journalists, he addressed the reports that he was said to be considering a reshuffle of his senior team - including Shadow Chancellor of the Exchequer, Anneliese Dodds.
The reports were quickly shut down by Sir Keir, who said: "Anneliese Dodds has my confidence, she has my full confidence, she is doing a fantastic job.
"And we are one team, and we have got really important elections in May."
The Labour leader has been visiting other areas across the country as part of his election campaign, including door-to-door visits which he says is permitted under the Government guidance.
Brilliant to be out campaigning today.

Government guidance in England lets parties talk to voters on the doorstep again.

And on Thursday 6th May we have one of the biggest set of elections in our history.

So join us to help Labour win.

Remember your mask! pic.twitter.com/EZZ8H3IWdS

— Keir Starmer (@Keir_Starmer) March 27, 2021
Other politicians that have been spotted campaigning in Milton Keynes recently include Ben Everitt, who is the Conservative MP for Milton Keynes North.
He shared a photograph of himself "walking off the Sunday lunch" in Newport Pagnell on the weekend.
Walking off the Sunday lunch in Newport Pagnell 😁#VoteConservative pic.twitter.com/iRTkvbkGuc

— Ben Everitt (@Ben_Everitt) March 28, 2021
Doorstep campaigning is expected to ramp up as the local elections edge closer. Residents will take to polling stations, or fill out their postal ballots, for the local elections on May 6th.
There are elections for all 19 Borough Wards with one vacancy in each ward, except for Woughton and Fishermead and Central Milton Keynes which will have 2 vacancies (because of by-elections).
Election day, which was previously postponed in 2020 due to the pandemic, will see residents vote in local, parish, and Police and Crime Commissioner polls.
There will also be a Neighbourhood Plan Referendum for Stantonbury.
READ MORE: Local elections 2021: Milton Keynes Tory leader confident as polling day looms large
READ MORE: Local elections 2021: Milton Keynes Lib Dem leader sets out his stall for the last time