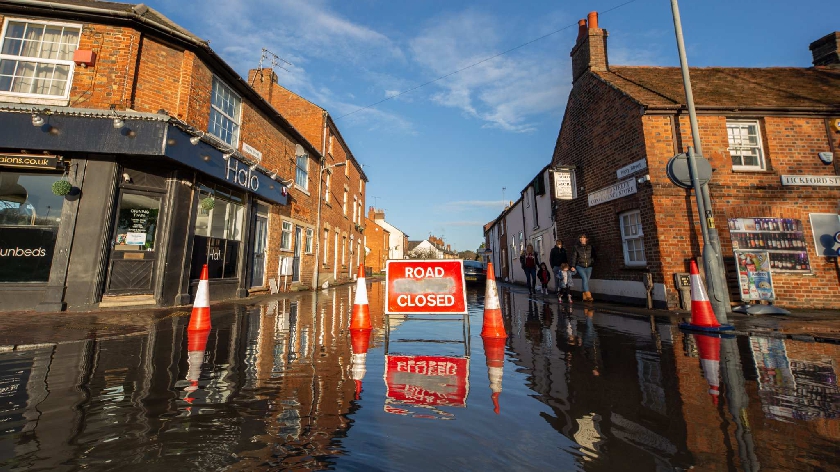 Four flood warnings remain in place across Milton Keynes today with further rain forecast for the city overnight tonight.
The Environment Agency have issued the warnings covering the River Great Ouse in Newport Pagnell, Stony Stratford, Ravenstone, Wolverton and Cosgrove.
Photos from Christmas Eve show the extent of flooding in Newport Pagnell which continues to have an impact in the market town.
Officials say that river levels remain high but are now falling at both the Newport Pagnell Cemetery river gauge and Passenham river gauge.
But with further rainfall expected later, the Environment Agency are asking residents to remain vigilant.
Warnings have been issued to residents living in the following Newport Pagnell streets: Alexandra Drive, Ranelagh Gardens, Gladstone Close, Osterley Close, Glenwoods, Station Road, High Street, Wolverton Road, Westbury Lane, Lakes Lane, Willen Road, Mill Street, Tickford Street, Priory Street, Caldecote Lane, Willen Road, River Side, Toll House, Woad Farm, Sherington Road, Gallards Farm, Dulwich Close, Tabard Gardens, Alexandra Drive, Richmond Way, Bowes Close, Caldecote Street, Silver Street, Mill Street, Lakes Lane, Dovecote, Park Avenue, Broad Street, Tickford Street, Priory Street and Kingston House.
In addition, Ravenstone Mill in Ravenstone is also expected to be at risk.
Meanwhile, officials also expect flooding to affect Willow Lane, High Street, Queen Eleanor Street, Temperance Terrace, Fegan's Court, and Ostlers Lane in Stony Stratford as well as Watermill Lane in Wolverton and Cosgrove Leisure Park.
Evacuation centres have been set up in nearby Bedfordshire as over 1,300 homes have been evacuated there with emergency crews using boats to assist local residents.
And a holiday park in nearby Billing Aquadrome in Northamptonshire had to be evacuated on Christmas Eve. Over 1,000 people were told to leave the site by local officials as flooding continued to create issues.
Image Credits: Brian Tomlinson Photography/bt-photography.co.uk