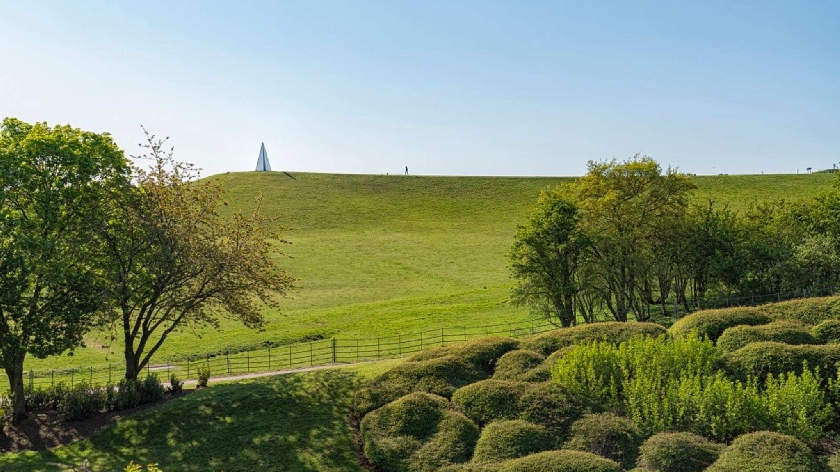 Milton Keynes has been enjoying record-breaking sunshine, just as lockdown restrictions have eased across the country.
Outdoor gatherings of up to six people, or two households, are now permitted under the latest Government guidance. This means that families and friends will be able to meet, socially distanced, in either private gardens or outdoor spaces across Milton Keynes.
As more and more people will be taking to Milton Keynes' parks for a Spring BBQ, or evening drinks, we have put together a list of five places to soak up the sunshine.
1) Bury Fields, Newport Pagnell
Bury Fields, located behind the High Street, is a park that has lots of local history. It features the remnants of a Civil War defensive boundary and over by the top meadow, an ancient burial mound.
It is now a popular dog-walking spot due to its vast open spaces and is favoured amongst families because of its very own beach. Well, a sandy stretch that goes down to the river. It's still just as nice in the sunshine!
There are plenty of spots for picnics, sunbathing, and relaxing with friends and family.
2) Campbell Park
Of course, no list would be complete without our central and award-winning park. Up until recently, it was home to The Parks Trust's grazing sheep, which have now left the grass looking neat and tidy for the summer.
Campbell Park boasts the Milton Keynes Rose, the Cricket Pitches, the scenic canal broadwalk, lots of interesting sculptures, and more.
It is within close proximity to the centre:mk and Xscape, meaning that there are plenty of places to pick up takeaway food and drink.
3) Willen Lake
Willen Lake is another popular spot here in Milton Keynes, with different facilities and lots of food stalls. There are two lakes to walk around, with one being slightly quieter than the other.
There is currently a teddy bear hunt taking place around the lakes, where families can pay £5 to local charity Willen Hospice and receive clues, a sponsor pack, some teddy bear biscuits, and more information on the task itself. So if you spot some teddy bears around the lake, then that's why!
Families can also play in the large-scale park located by the main lake, or take a stroll to the scenic Peace Pagoda.
Food fans can also grab a pizza from the independent food van A Pizza This, which will only be staying at Willen Lake until 31st May as its contract has not been renewed.
4) Great Linford Manor Park
The historic Great Linford Manor Park is currently having a makeover, so there will be parts of the park gated off and looking rather messy. This is all part of the multi-million-pound 'Reveal, Revive & Restore' project that will protect the park's important heritage.
Many features of the park date from the 17th and 18th centuries, including the Water Gardens and nearby Wilderness Garden. There are lots of scenic walks nearby, and plenty of local history to soak up.
There will be an Easter egg hunt running at Great Linford Manor Park, so there is also something to do with the kids.
It will take place until Sunday 11th April, during daylight hours, and is a self-guided trail meaning that households can take part whenever they like.
5) Stanton Low
The final spot is a hidden gem here in Milton Keynes. Despite being one of the newer parks in Milton Keynes the land at Stanton Low, which is next to Oakridge Park, is rich in heritage.
Towards the north-west corner of the park lies the below-ground remains of the former Stantonbury Manor, which was built in the 17th Century.
There is also above-ground remains of St Peter's Church, parts of which date back to the 12th Century.
It backs onto the river and there are plenty of scenic spots for picnics. Definitely worth a visit!
What is your favourite park to visit in Milton Keynes? Let us know by emailing news@mkfm.com!