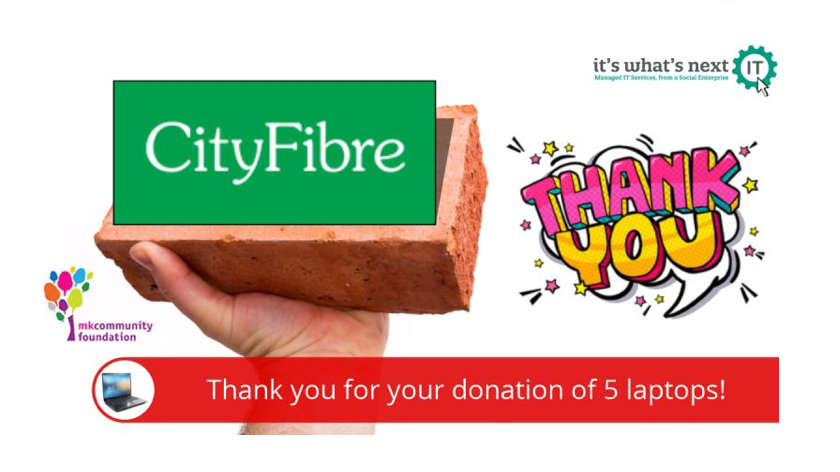 CityFibre has backed the Laptops For Students MK campaign by donating laptops to help ensure that no student is left behind.
The campaign encourages businesses to donate their old, used, or surplus laptops to be wiped, refurbished, and given a second lease of life. The laptops are then donated to schools in the Milton Keynes area and given to the students who will benefit most from the IT equipment.
The campaign is run by It's What's Next IT, a social enterprise that provides IT support to small and medium-sized enterprises in Milton Keynes and surrounding areas, in partnership with the Milton Keynes Community Foundation (MKCF). CityFibre has donated five laptops to support the campaign and help remove barriers to education.
Speaking of the laptop donation, Jean Gowin, CityFibre's City Manager for Milton Keynes, said: "No student should be excluded from learning, and so we are proud to support the Laptops For Students MK campaign to help ensure that all students in Milton Keynes can access their school resources online.
"At CityFibre, we are passionate about providing strong and reliable digital infrastructure and hope our full fibre network roll out will create lasting connectivity in Milton Keynes."
Matthew Reynolds, Founder and Director of It's What's Next IT, added: "Key to the success of Laptops For Students MK is activating the local business community. CityFibre really came through with some fantastic support for the project, donating some fantastic laptops that will no doubt be much appreciated by the children and families that we're helping."
Milton Keynes was the first city in the UK to benefit from CityFibre's Gigabit City Investment Programme. The programme will see full fibre infrastructure reach up to eight million premises in the UK by 2025 with a private investment of up to £4 billion.
The initial £40m full fibre network roll out in Milton Keynes reached substantial completion at the end of last year, giving thousands of people across large parts of the city access to the fastest and most reliable digital connectivity available. In April this year, CityFibre announced that it was expanding its initial £40m build project in Milton Keynes to include a further 7,000 homes.
For more information about Laptops for Students MK, visit www.iwn-it.com/laptops-for-students-mk
Residents interested in giving their home broadband a boost can find out more, register their interest and find out when new ISPs join at www.cityfibre.com