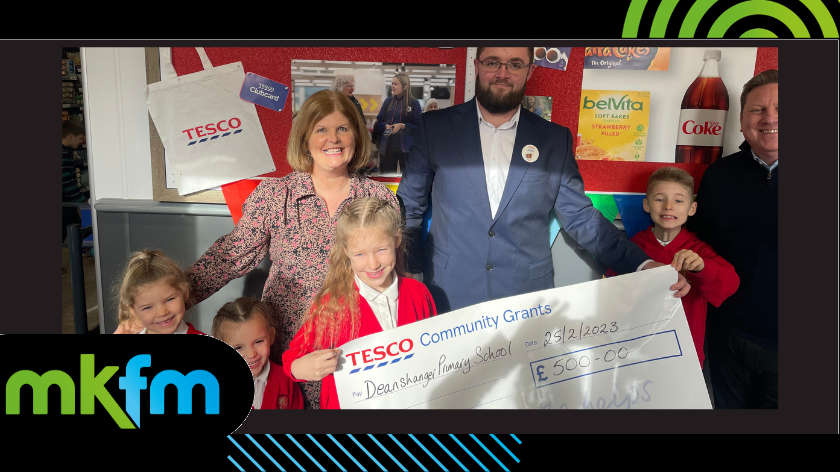 Youngsters at a school near Milton Keynes have received much-needed funds to finish their outside play areas.
Pupils at Deanshanger Primary School have been given money by colleagues at Tesco Express.
Staff at the brand new Tesco store in Stony Stratford nominated Deanshanger Primary School after being 'impressed' by its commitment to providing outdoor learning activities for its pupils.
Manager John Clark met with the Deanshanger Primary School headteacher, Rachel Rice, and some of the pupils to present the cheque and some Easter eggs ahead of the holidays.
Rachel said: "The donation from Tesco was a fantastic surprise for us all at Deanshanger Primary and it is really appreciated. We want to say thank you so much to everyone at the store.
"We are currently extending and improving our outside play areas and, very soon, hope to be able to create a large twenty metre sand pit.
"This money from Tesco will make a significant contribution to this project, so thank you again very much for supporting us as a local school."
The new Express store at Cofferidge Close opened its doors a couple of weeks ago, providing 31 jobs for the community. It will also contribute surplus food to foodbanks and provide funding opportunities for local good causes via Tesco's Community Grants scheme.
John Clark, Store Manager at the Stony Stratford store, said: 'We are very excited to be part of the community and support local good causes.
"This is why we were delighted to make to donation the Deanshanger Primary School so that they could finish their playground, and we are excited about any future activities we can support them with in the community.
"By also promoting Tesco's Community Grants scheme, we will aim to donate thousands of pounds for local good causes, helping the community to flourish."
Community groups in and around Milton Keynes are invited to apply for community funding through Community Grants, Tesco's blue token voting scheme, which sees three local projects voted for by customers in store every three months, with first place awarded £1,500, second place £1,000 and third place £500.
Local organisations can apply for grants here.