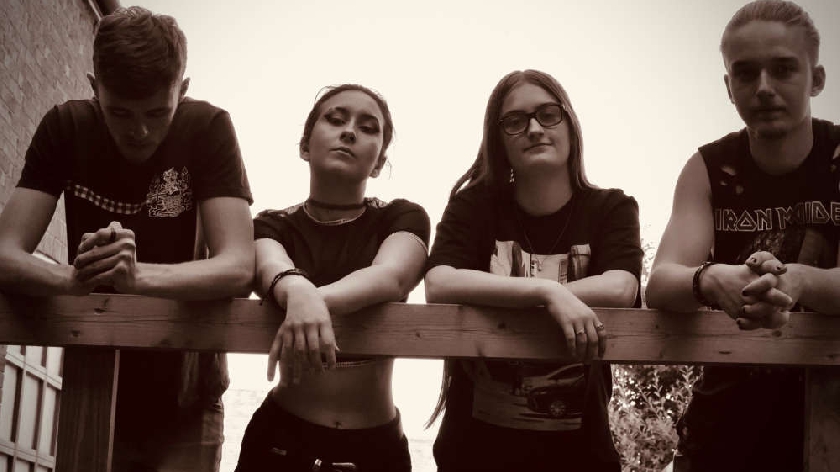 Debris, a very promising and strong female teenage-led band in Milton Keynes releases new debut EP 'Mona Lisa', alongside an acoustic rendition of EP's leading single 'Portrait'.
Debris was formed late in the year 2021 and has been soaring in the local music since.
They are a young collective bringing forward true emotions and experiences through their music. Their aim is to express their emotions and feelings in not wanting to be overlooked or downtrodden and take back some power or ownership of situations or relationships.
A very inspiring and promising rock band.
They released a melodic and meaningful leading single 'portrait' alongside an acoustic rendition, these are available on all major streaming platforms.
Portrait has you invested as soon as it starts, the melody and sound is striking and already has you in your feelings before any words are sung.
"Who is it you see in the mirror" is the first line, the lyrics immediately capture you and get you thinking, getting you in a state of reflection.
Not only is the House of Debris such a great-sounding band, with fantastic branding, they are very talented lyricists and you learn this the more you listen.
The Debut EP followed after this with 5 further impressive songs to listen to, '1925' 'Mona Lisa' 'Stolen' 'Le Sourire' and 'Priceless'. They are well worth a listen and also look like natural-born performers from their images and videos on stage.
They perform a lot locally so you have plenty of opportunity to see this wonderful talented band, there is much to come from Debris!
Jodie Erica asked the House of Debris some questions and here is what they said.
Tell us about your latest release 'Portrait', is there a meaning behind it? Do you write your own songs?
Debris write all their own songs. With Portrait, it was Casey's first complete song she wrote and also the second ever song Debris finished as a band. The song was almost entirely through one of the later covid lockdowns, which Sienna then added the lyrics to. Portrait is about self-acceptance and finding peace within yourself 'who is it you see in the mirror and do you like the way they look back'. Every verse is about the journey or process of finding who and what you are, taking ownership and then being proud of that. Self-acceptance, or self-love, is so hard for many of us, so we think when you do start to understand who you are, and more importantly like yourself for being that person, it really is something quite special. We really hope those that listen to our songs can find that in the song and find that feeling for themselves too. We're all amazing in our own way, we should love that about ourselves, and be loved for who we are, not what someone wants us to be... listen to Priceless for that one!
As a band we write all our own songs, often collaboratively as a group. If one of us has something more developed, we try and share that between ourselves to come up with a few tweaks or changes, but it could just be a simple riff or a beat, and then the group kind of works it out from there. We all try to include one another in the music writing and lyric process.
What does Debris mean?
Debris probably means a little something different to each of us. But for the most part it is exactly what it says on the tin (or you can find in the dictionary); noun, scattered pieces of rubbish or remains. The brief history is the group came about from the remains of another that Tommy and Casey were part of. With Damon and Sienna on board, and as a complete group, we often we felt overlooked because of our age, gender, looks, or orientation, so often we felt a little downtrodden where we were just trying to find our place in this weird world. To us, personally, Debris just means a family of close friends who enjoy making and playing music together.
How long have you all been performing for individually and together? Tell us some backstory about your journey so far and how debris came together
As a group since October last year, individually maybe a few months before. We all have, or are still studying at Music at Milton Keynes College, so Debris is our first band we have played with and also our first public performances individually.
Debris came about as we were all mutual friends of Casey. We all had met at and played at a local jam night at MK11. Our first song we played in public for the first time together was at MK11, a Paramore song 'Decode' and then the rest is history.
Who are your musical influences and inspirations?
We all have our own influences which crafts our individual sounds and collectively as a group. Casey's style is influenced from the alt-rock, nu-metal and pop-punk genres, with the likes of Bring Me The Horizon, Muse and Linkin Park. Tommy is more metal and heavy rock influenced with the likes of Metallica, Slayer, Slipknot. Damon very much grunge, indie and metal, so from Nirvana to Arctic Monkeys and everything in between. Sienna floats between a bit of everything, but as long as you can dance, mosh, or head bang she's there!
What other hobbies/passions do you enjoy regardless of music?
Outside of the band life we all enjoy different things, from football and gig photography, films, music and just watching other bands play. But the commonality in our love for music and being around the local scene is what brings us together.
Do you have a favourite memory so far, of a performance etc? do you have any funny gigging stories?
There have been so many experiences so far that we have to be grateful for and a few we chose to forget! Opening for Vampires Everywhere at their gig at the Craufurd event has been up there with one of the best experiences to date, playing our first festival at BeaconFest this summer, or our sold out EP launch show are some amazing things that have happened already this year.
Casey getting her bracelet stuck in the guitar pickups mid set, part of which is still there if you look closely, is up there for stage slip-ups. We don't talk about the broken table incident… But from Tommy playing with stickers over his nipples, or Casey (again) needing her shoelaces tied mid set, we always try to enjoy our gigs, and really hope our audiences can too, in a safe and inclusive environment with friends who enjoy our music.
Where are your favourite go-to places to perform in Milton Keynes?
Milton Keynes is very fortunate to have some fantastic independent venues, clubs and pubs to perform at, many that support grass-roots music in their community. The Craufurd Arms really feels like our home away from home whenever we have played there, the sounds is always great and they make you feel at home. You also have MK11 too which has a great set up. We have also been lucky to have worked with some great local and regional promoters, met some amazing bands too (many of whom we class as good friends), all who have really helped support our journey so far as well as the wider music scene in and around Milton Keynes.
Keep up to date with the latest from Debris here.