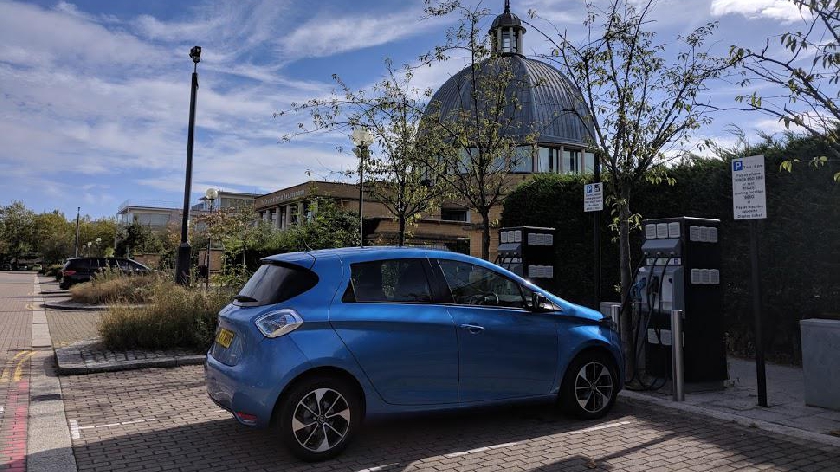 Trying something new can feel a little daunting. In her latest blog post, Lia from the MK Breakfast Show explains the support and unexpected community she has found since driving an electric vehicle...
You'd never expect to fill up at a petrol station and start chatting to the person refuelling next to you, in fact it's usually a glare from the car behind trying to hurry you along. So you can imagine my surprise in the first few months of driving and charging the MKFM electric car, thanks to the Electric Vehicle Experience Centre in centre:mk, when fellow EV drivers started conversation. At first, I thought I must have looked like a complete novice pulling up to the Tree Cathedral by Willen Lake and figuring out how to charge the car for the first time that the gentleman charging next to me took pity and checked up on me. However, it then became a wonderful regular occurrence.
There is a real sense of community amongst electric vehicle drivers and enthusiasts that was totally unexpected! A real feeling of "we're all in this together" - being part of the future, helping the environment and of course saving some pennies! From seeing the regulars at the charge point, to being able to consult the Zap-Map (a UK-wide map of charging points to help EV drivers locate and navigate to available charge points) it really feels like you're part of an exciting, inclusive club growing in members every day!
The EV Gurus at the EV Centre were so welcoming, passionate and knowledgeable about electric and plug-in vehicles that I immediately felt comfortable and well-informed to join the electric vehicle revolution. Read more about my initial experience of the EV Centre in a previous blog here. Then, when I was out on the road on my own the Zap-Map app, the EV Centre encouraged me to download for free, was super helpful! Key features include search, filters, list of nearby chargers, detailed info on each charging point, Zap-Chat community feature and a smart route-planner. The app allows drivers to 'check-in' to chargers, share their experience, post photos and report if there are any issues which can then be resolved.
I've bumped into an old work colleague, got into conversation with a young family at the supermarket (after the children thought I was driving a spaceship after pulling in silently to a parking space) and friends from school I haven't spoken to for years have reached out to share their intrigue and ask about my experience. It's been a fun ride so far, fancy joining us for the journey?
Join the electric vehicle revolution
For more information or to book a test drive from as little as £30 for the Renault ZOE, VW ID.3, VW ID.4, VW E-Up, VW E-Golf, BMW I3, Mini Electric, or new Audi e-tron Sportback, and receive an additional 20% off your experience fill out the form below or quote promo code MKFM20 when enquiring with the Electric Vehicle Experience Centre directly.