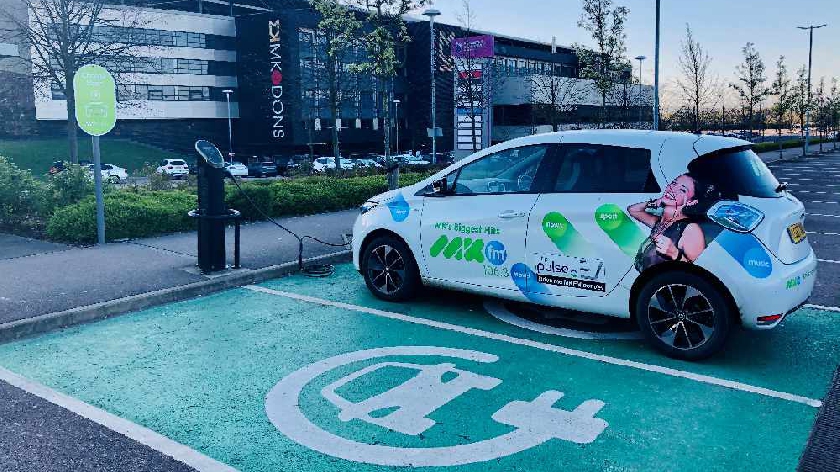 With growing attention around climate change and sustainable living, how can going green help our planet as well as our bank balance? Lia from the MK Breakfast Show shares the benefits she's experienced in this blog post...
Since driving the MKFM electric car I've noticed the growing number of electric vehicles driving and charging around Milton Keynes (and now you've read it here hopefully you'll spot them more too). Here's just a couple of reasons why driving an electric car has improved my lifestyle and can benefit yours too.
Cheaper - With the rising costs of petrol and diesel as well as government grants, now is the perfect time to switch to an electric car.

Faster - The power goes straight to the wheels for instant acceleration, making EVs quicker on the start. Don't believe me? Why not try out the extensive electric range from the EV Experience Centre to see their full potential.

Smarter - The UK has an enormous air quality problem. By owning an electric car, you will play a key role in lowering carbon emissions.

Quieter - Fed up of loud engine noises giving you a headache? Electric vehicles are virtually silent and this is still the best part about driving an EV for me.
How can an electric car save me money?
There's no denying that electric cars have larger upfront costs. However, with fantastic finance options and many grants available, you will save money by owning an electric vehicle.
Government grants - The UK government currently offer you up to £4,500 off your electric vehicle purchase. This helps reduce the outright cost significantly.

Free parking in MK - Amongst other local benefits, you can park your car for free in Milton Keynes if you are plugged-in. I utilise the free charge and free parking available at the MK1 Shopping & Leisure Park (photographed above). Speak to the EV Gurus at the EV Experience Centre for further details.

No petrol or diesel costs - Petrol and diesel costs are always rising. With electric cars, you can charge your vehicle for £2 at home. This can save you thousands of pounds in the long run.
Milton Keynes is the perfect place to drive electric
Milton Keynes has invested heavily into paving the way for electric motoring. It now has over 300 public charge points for drivers as well as offering free parking at most of them whilst you're plugged in. With fuel consumption at it's highest when you have to tackle all the roundabouts that MK has, you are bound to save money if you make the switch. Find out more about charging in Milton Keynes on a previous blog post here.
Want to find out more?
The Electric Vehicle Experience Centre are there to help you get the most out of your electric car and help you every step of the way. Visit the EV Centre in centre:mk for more information on the benefits and the chance to try out their different models on the market, completely commitment-free.
For more information or to book a test drive from as little as £30 for the Renault ZOE, VW ID.3, VW ID.4, VW E-Up, VW E-Golf, BMW I3, Mini Electric, or new Audi e-tron Sportback, and receive an additional 20% off your experience fill out the form below or quote promo code MKFM20 when enquiring with the Electric Vehicle Experience Centre directly.