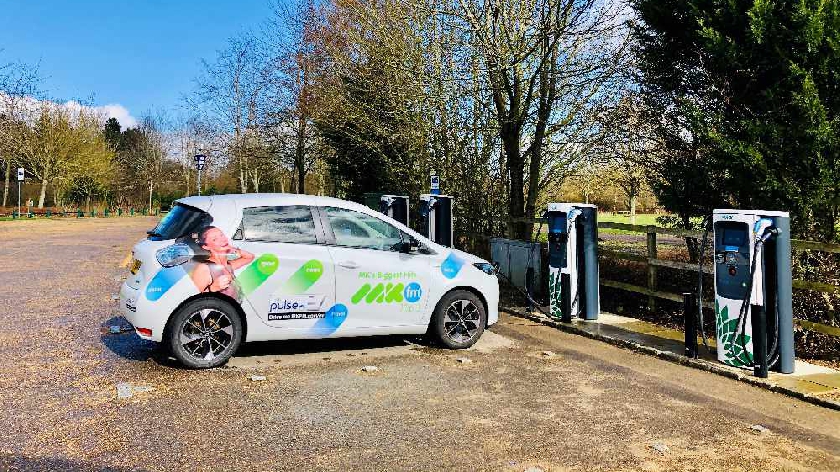 Is Milton Keynes ready for the electric car revolution? Lia from the MK Breakfast Show shares her experience of charging the MKFM electric car across MK in this blog post...
After 13 years of weekly trips to the petrol station, the idea of never having to go to one again was a little strange. Finding out how, where and when I should charge the electric car was an entirely new experience.
How to charge your electric vehicle
Charging your electric vehicle doesn't need to be complicated. The EV Experience Centre, in cente:mk, is managed by Chargemaster's the UK's leading charging supplier and they're here to help you with all your charging needs. EV Guru Rachel took plenty of time to educate me on how to charge the Renault ZOE ZE.40 and answered all of my questions with enthusiasm and great knowledge.
When to charge
Unlike petrol or diesel operated cars, you should top-up your electric vehicle as and when you can. BP Chargemaster makes charging your car as affordable and simple as possible.
Where to charge in Milton Keynes
Charge at home - Around 70% of electric vehicle charging happens overnight, at your home. With government grants available, you can install a simple-to-use Homecharge very affordably.

Charge at work - With government grants available, it can make it more affordable for your work place to get a charge point installed.

Charge on the road - We're very lucky to have over 300 charge points in Milton Keynes, including over 60 rapid chargers, all of which are publicly available and located throughout the borough. My personal favourite is at the Tree Cathedral - giving me the perfect excuse to go for a beautiful walk around Willen Lake while the car charges. All of the charge points in MK can be accessed with a POLAR network card, which you can apply for in the EV Experience Centre.
How much does it cost to charge?
For the average electric vehicle, you can fully charge for around £4.00. This is much cheaper than the petrol or diesel equivalent. To find out exactly how much you could save depending on your current driving situation, speak to the EV Gurus within the EV Experience Centre.
For more information or to book a test drive for the Renault ZOE, VW ID.3, VW E-UP, VW E-GOLF, BMW I3 or MINI ELECTRIC and receive an additional 20% off your experience fill out the form below or quote promo code MKFM20 when enquiring with the Electric Vehicle Experience Centre directly.