VOTING CLOSED for your favourite gritter names!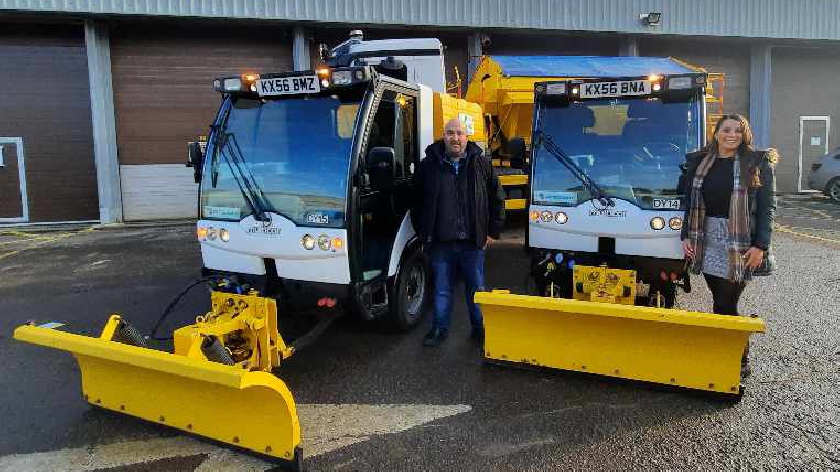 Hundreds of you came up with names for Ringway's pair of redway gritters for your chance to win a £50 Amazon voucher. Voting is now closed and the winner will be announced on Friday 27th November at 8.15am on the MK Breakfast Show.
As winter sets in and the roads and redways across MK start to get icy, Milton Keynes Council and their service provider Ringway are ready to keep residents safe with a well stocked salt barn and gritters for those frosty mornings.
Milton Keynes Council have two mini gritters, called Tremos, used on redways and footways during the winter when it is particularly cold and icy for long periods. They have snow ploughs fitted and spray saltwater mix over the footway and redway. Each can fit a 2-person crew inside and are compact enough to drive through an underpass. BUT they need naming!
Thanks to hundreds of MKFM followers for submitting their nominations. All entries received were reviewed by MK Council and their service provider Ringway and the top ten are listed below (in no particular order).
Torvill and Dean
Chas and Dave
Milk and Beans
Bert and Ernie
Gritter Thunberg and Roger Spreaderer
Holly and Ivy
Blitzen and Comet
Cannon and Ball
David Plowie and Gritney Spears
Penelope Gritstop and Basil Salty
The public vote has now closed and the winning names will be revealed on the MK Breakfast Show with Darren and Lia on Friday 27th November at 8.15am.
The winning entry will receive a £50 Amazon voucher and pride seeing the new names adorned onto the two gritters.
Terms and Conditions
As well as MKFM's standard Terms and Conditions, the following applies to this competition
Entries must be made by 5pm on 15/11/2020 using the submission form on our web page here.
If a duplicate entry duo name is selected in the top ten, we will use the first one received by us.
The panel's decision on the shortlist will be final and no discussion will be entered in to.
By entering the competition, you are agreeing to be identified as a winner and you may be asked to take part in some publicity activity (e.g. photocalls with local press).
This competition is intended for our local audience on FM. As such, to be eligible to claim the prize, entrants must live in our FM broadcast area (which covers the Borough of Milton Keynes including Newport Pagnell, Stony Stratford, Wolverton, Woburn Sands and Bletchley, and the nearby towns of Woburn, Olney, Cranfield and Ampthill). Alternatively, entrants must work within this area for at least five day a week. Evidence of employment at the time of winning will be required and is subject to MKFM's judgement.