MKFM Doughnut Run with Tim Hortons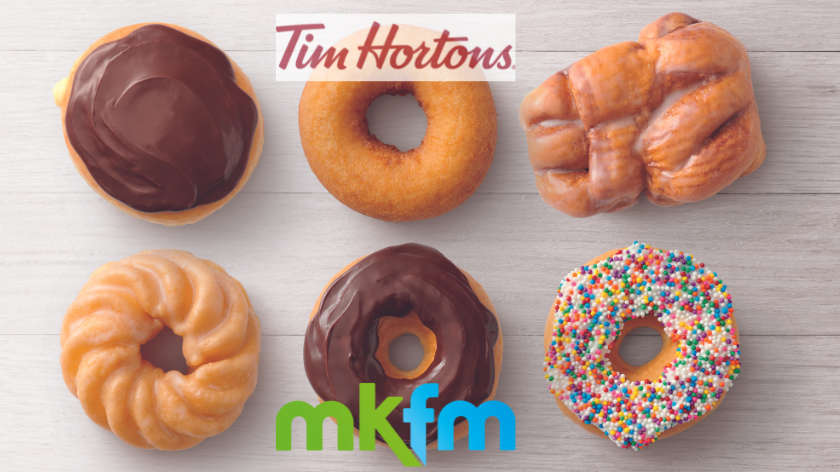 The MKFM Doughnut Run is back this summer! It's the place to treat your workmates and you can nominate yours now!
We're giving you the chance to WIN some delicious doughnuts delivered to your workplace, school or charity... as long as you're based in Milton Keynes!
Just give us a good reason as to why you and your team deserve the treats and we'll pick the best nomination every day and send 1 x12 box of Old Fashioned Glazed Donuts and 1 x12 Box of Assorted Donuts – courtesy of Tim Hortons at Westcroft and the Kingston Centre.
Not only that, you'll get to pick the songs we play on the radio at 11:15am every weekday morning and have your photo shared on our social media.
The delicious treats will be hand delivered by one of the MKFM team, starting this May.
Enter Now
Tim Hortons is known for its coffee, fresh baked goods including doughnuts and Timbits, and freshly prepared wraps and sandwiches. Find out more details about the Canadian fast-food restaurant, that opened its doors at the Kingston Centre in December 2020, and see our photo gallery here.
Terms and Conditions
Nominations can be made only by completing the form on this page.
Delivery address must be within the Milton Keynes postcode area.
The daily winner will be chosen by MKFM from all nominations received from the opening date of nominations (on 5th April 2023) until the competition ends (the date of which will be announced on MKFM).
All entries are carried forward until the feature ends.
The winning nomination will be the one which in the MKFM judge's opinion is the most deserving, creative or original.
The prize is 1 x12 box of Old Fashioned Glazed Donuts and 1 x12 Box of Assorted Donuts (or an equivalent prize subject to availability). There is no alternative prize or delivery dates.
The responsibility is on the recipient of the doughnuts to check allergens. Please find the full list of ingredients and allergens on the Tim Hortons website here.
The judge's decision is final, and no further correspondence will be entered into.
In addition, standard MKFM terms and conditions apply to this and all competitions on MKFM.