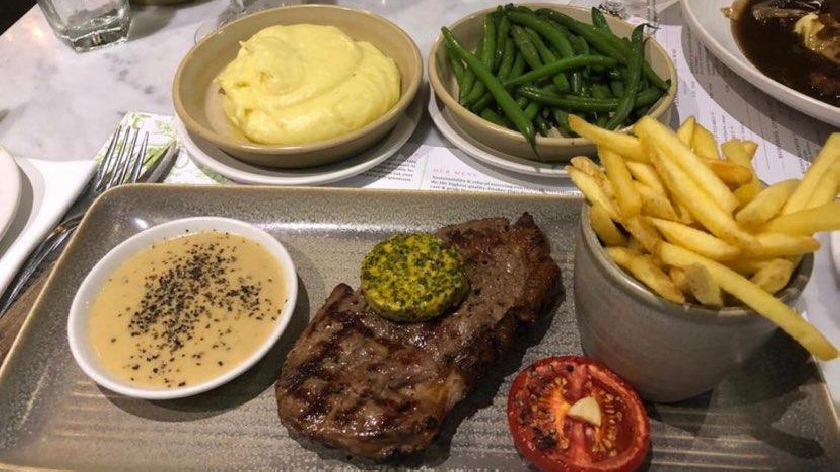 Mrs D was invited to Brasserie Blanc at The Hub to sample the menu and experience the service. Let's see how she got on...
Anyone who listens to the MK Breakfast Show will know if I eat out with Mr D it's usually an Indian restaurant, so it made a change to go somewhere different.
When we moved to Milton Keynes around 12 years ago we enjoyed several evenings at Blanc's but for Mr D's love of Indian food and home-cooked steaks, we haven't been to Blanc's for years.
With the current restrictions in place, it was a lot easier to park around The Hub, with there being plenty of spaces on Avebury Boulevard and Midsummer Boulevard. It made a nice change to the many occasions when we have struggled to park nearby on a Saturday evening.
As we approached Blanc's I noticed that the revolving doors had changed and the little shop in the restaurant had been replaced with tables. The shop was always nice to look at, but I guess like me nobody actually purchased anything.
Upon entering, the restaurant was busy and the interior looked different from what I remembered; Mr D reminded me that Brassie Blanc's had a refit a few years back. We were immediately greeted and shown to our table. Within a few minutes we felt very relaxed and at ease thanks to the friendly team and the manager who came over and said hello.
Looking around you could see the great lengths Blanc's had gone to, to ensure they were following government guidance. In most places we've been since the reopening following lockdown, many venues have removed tables. Some venues have looked sparse because of this, however, Blanc's have decided not to remove certain tables to allow social distancing but have put clear notices on selected tables that they are on furlough. This is a great idea as it is helped with creating a sense of normality.
The menu was full of a great selection of dishes with an extensive range of drinks from the bar. Considering several places have reduced their menus it was refreshing to be presented with a great choice of dishes.
Blanc's staff were knowledgeable about their food and what drinks to order to enhance the flavours of our dishes.
I usually have a starter and main course and Mr D usually goes for a main course and dessert.
We ordered the following...
Mrs D
Chicken Liver Parfait
Truffle butter, caramelised red onion marmalade, toasted brioche
Slow-cooked boeuf bourguignon
Red wine sauce, lardons, baby onions, mushrooms and smooth mash
Mr D
'Le Grand' Steak Frites with a side of Buttered Green Beans and Smooth Mash
Cornish sirloin, french fries, 'cafe de paris' herb and mustard butter
Mango and Pineapple Crumble
Mango and pineapple, coulis, almond citrus crumble, jude's vanilla ice cream
Chocolate Fondant with Spiced Orange and Passionfruit Sauce
Orange crèmeux, confit orange and stem ginger
Did you spot that Mr D ordered two desserts?
Both my starter and main course were amazing, I enjoyed the patè and the beef main course was delightful, with the beef just falling off my fork. The mash potato was one of the smoothest I have experienced.
Mr D doesn't usually order steak when he's in a restaurant and prefers to cook it at home. However, he was very impressed with his sirloin that was a perfectly cooked medium and flavoursome with no taste of the grill it was cooked on (one of the main reasons he doesn't order steak when he's out). The sauce and sides were the perfect accompaniment and whilst licking his lips, he gave it a 10 out of 10.
Before giving you my overall opinion and to show that this is an unbiased review, don't order the Mango and Pineapple crumble. We shared the desserts (I wasn't going to let him eat both of them). For some reason the Mango and Pineapple crumble didn't work for us, it seemed a very odd dish with hot and cold elements and ingredients.
However, the Chocolate Fondant dessert is to die for and is an absolute must, it was something like you would find at a top-class hotel, the orange crème was simply amazing, I could have eaten another one.
Overall I would give our experience top marks. The refit is still looking fresh, the atmosphere was amazing, they have done a fantastic job with implementing all the covid rules and above all the service and the food was first class (just ignore the Mango and Pineapple crumble).
The prices are affordable enough for an evening out without breaking the bank, but at the same time, I would recommend it for a date night or special occasion. Blanc's is very relaxed and one of the best restaurants here in Milton Keynes.