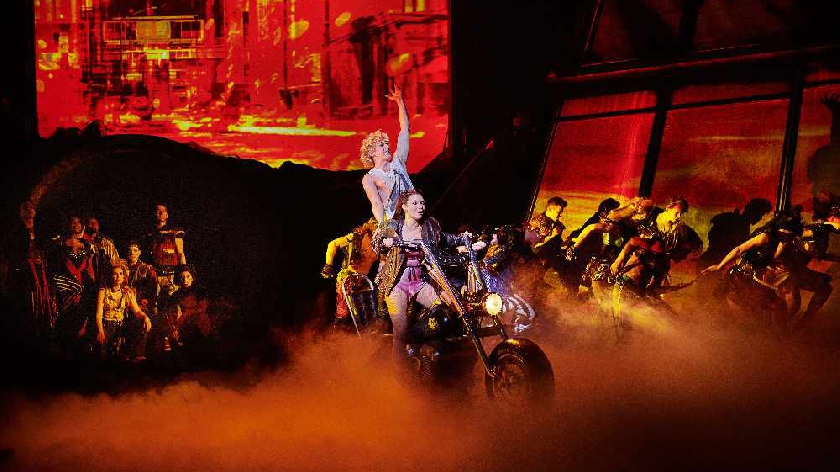 Charlotte from the news team was super excited to return to MK Theatre last night to see Bat out of Hell and here is her review...
What a show!
I was so excited to see Bat out of Hell. As a music lover, I couldn't wait to see how they captured Meat Loaf and Jim Steinman's music in a theatrical production... and they smashed it.
If you're not familiar with the music, it really doesn't matter. The cast of Bat out of Hell use the musical numbers to tell a story, in a way that you would have never have listened to the songs before. Each and every cast member came baring a unique and individual voice, every single one of them was extremely talented. The audience was in complete awe every single time they sung.
The story takes you through a what I would describe as a 'rock and roll style' Romeo and Juliet, or as described before, a 'loose retelling of Peter Pan'. Strat (Glenn Adamson), the leader of a tribe of semi-feral youths in California falls, in love with Raven (Martha Kirby), daughter of Falco (Jamie Jukes), the tyrannical ruler of Obsidian. The pair want to be together, despite their completely opposite lives and Raven's parents disagreements.
Glenn Adamson and Martha Kirby are absolutely amazing. The story they tell through their voices and dance alone makes you feel like they are truly in love.
The pair that really stood out to me was Falco (Jamie Jukes) and Sloane (Laura Johnson), father and mother of Raven. The performances were outstanding with their renditions of the music received a huge cheer everytime.
The outstanding performance was carried by the entire cast and had the audience dancing and singing a long the entire time.
If you love music and have the chance to visit MK Theatre, I recommend doing so. The cast's performance was incredible and unforgettable.
LISTINGS
Performances: Tue 14 Jun - Sat 25 Jun 2022
Mon - Sat at 19:30
Wed and Sat at 14:30
Tickets: From £13*
General bookings: 0844 871 7615*
Access bookings: 0333 009 5399
Group bookings: 0207 206 1174
Online Booking: ATGTICKETS.COM/MiltonKeynes*
*Fees may apply. Calls cost up to 7p per minute, plus your phone company's access charge
Facebook, Twitter & Instagram: @MKTheatre