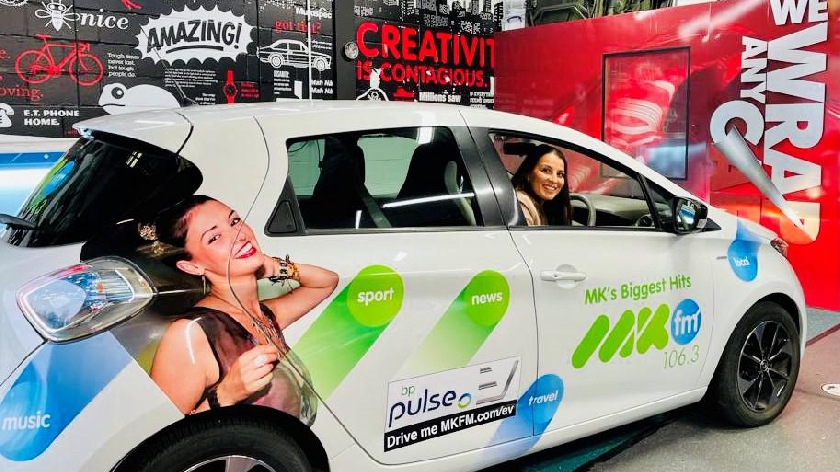 Image: Lia from the MK Breakfast Show inside the new MKFM Renault Zoe thanks to the Electric Vehicle Experience Centre
Have you spotted the new MKFM vehicle yet? Thanks to the Electric Vehicle Experience Centre, the MKFM team are gaining first-hand experience of driving and charging an electric vehicle in Milton Keynes and they'll take you along for the ride!
With a ban on the sale of new petrol and diesel-fuelled cars brought forward to 2030 in the UK, there has never been a better time to start thinking about going electric.
The Electric Vehicle Experience Centre is the UK's first brand-neutral centre for electric and plug-in vehicles, based in centre:mk, with an aim to provide completely free education and advice about electric and plug-in vehicles. Thanks to the EV Centre, the new car supplied to MKFM will help the team undertake our work in the local community whilst providing an insight into the experience for listeners and online followers.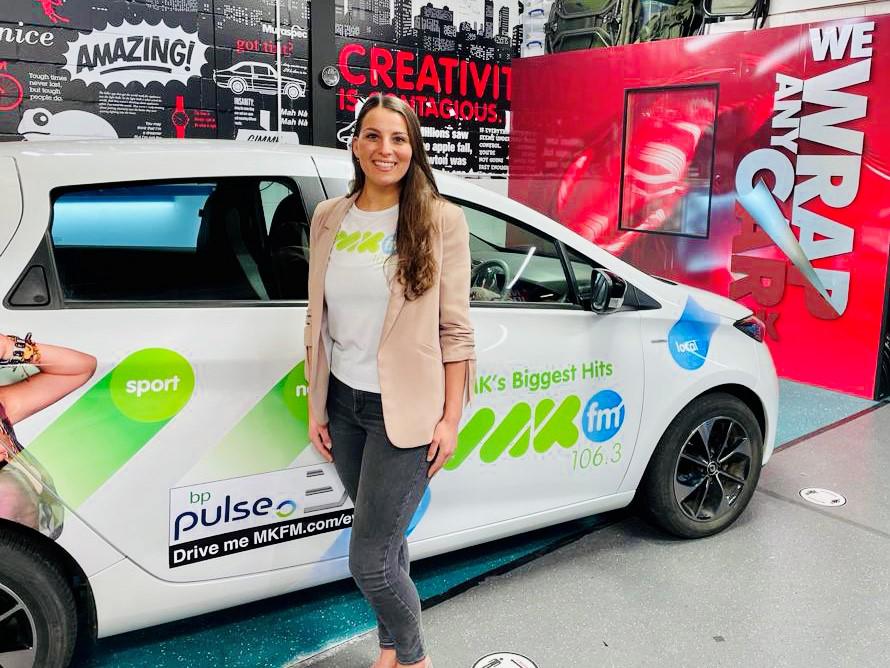 Lia from the MK Breakfast Show will provide regular updates on air and on our website about her experience of driving an electric car for the first time, what charging is like across Milton Keynes and the support received from the EV Gurus and the EV community.
Lia says, "I am so excited to be trialling an electric car for the first time (and an automatic for that matter). It's not long until we will all have to make the switch to go green so this is a great opportunity to see what it's like and share my honest experience with listeners every morning on the MK Breakfast Show. We are so thrilled to have partnered with the EV Experience Centre and I'm excited to join the electric vehicle revolution!"
The new MKFM vehicle, Renault Zoe 4.0, has been co-branded by We Wrap Any Car and can be seen out and about across Milton Keynes and at MKFM's studios at Stadium MK. Keep an eye out and tweet us a picture if you spot us @MKFM
Follow Lia's electric vehicle experience by tuning in to MKFM weekday mornings 7-10am on 106.3FM, DAB Digital Radio, online, on your mobile and smart speaker.
Find out more about electric vehicles
Interested in trialling an electric vehicle for a few days? The EV Experience Centre offers a range of experiences for up to 7 nights with a great choice of vehicles including; the new VW lD.3, BMW i3, MINI Electric, Renault ZOE and more, starting at just £30!
Find out more about the Electric Vehicle Experience Centre experiences and receive 20% off your booking by quoting MKFM20 or filling out the online form below.