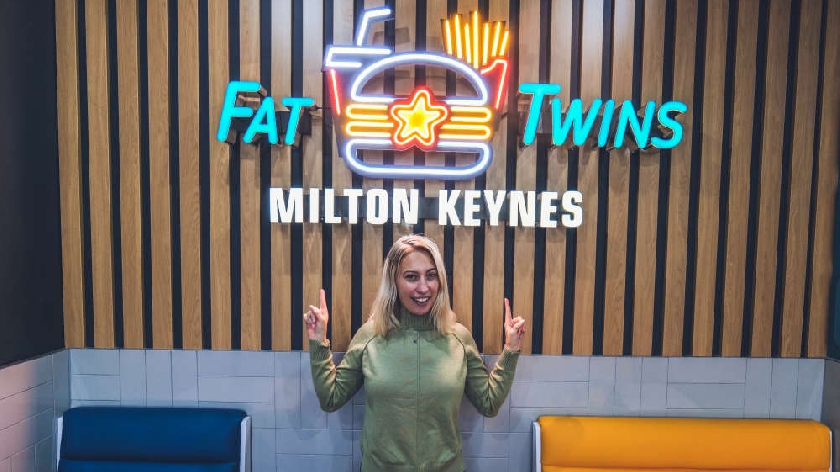 The burger chain Fat Twins is now open on Secklow Gate East, Central Milton Keynes and Jodie from MK's Finest was invited down to try some of their food...
Whether you need an on-the-go lunch or would like to enjoy a kid-friendly family meal, Fat Twins caters for every occasion at their funky neon Halal restaurant.
Located within Central Milton Keynes on 14 Secklow Gate, you cannot miss them as they stand out with awesome enticing colours and an American diner theme.
Fat twins have been branching out all over the country and expanding at an impressive pace, the franchise already has several restaurants in many other popular locations including; London, Manchester, Cardiff and since the grand opening in September 2021, we now have the pleasure of having our very own Fat Twins in Milton Keynes!
This is an exciting fast-food diner that provides you with lots of different twists and flavours. Their menu offers over 10 different types of burgers, which you can order as meals rather than the burgers on their own, and you have plenty of choice with their selection of sides. From wings and nuggets to fries and onion rings.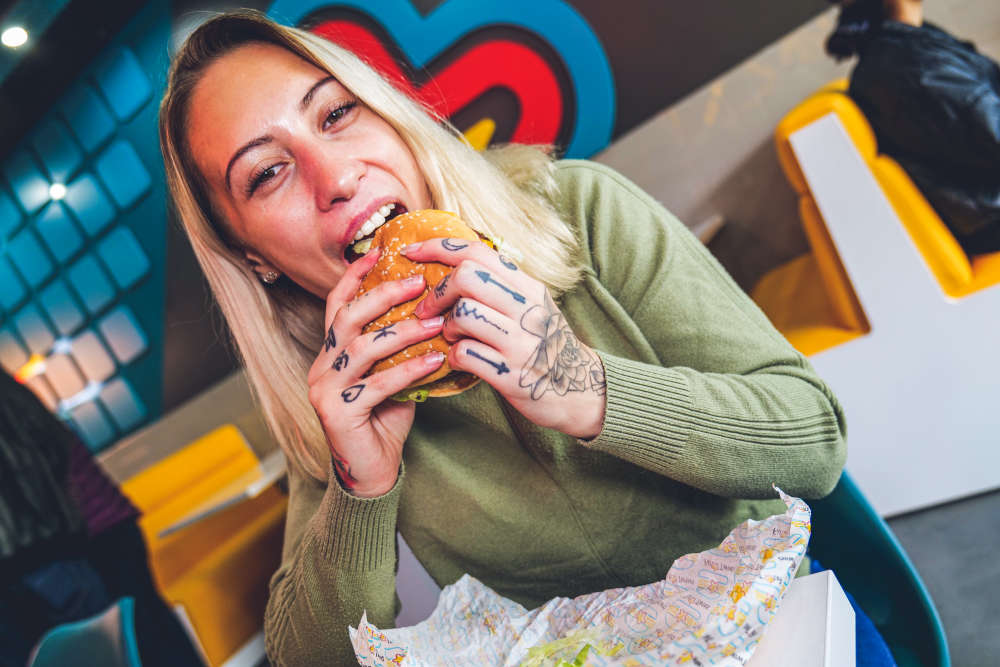 If you enjoy big 100% pure beef dirty burgers that are loaded with all the good stuff then the Double Triumph burger is for you. It has tomatoes, lettuce, cheese and diced onions, but this burger contains a special sauce (Triumph sauce) which is creamy with a slight kick of spice, onion, peppers, capers and herbs… delicious!
You may fancy a chicken fillet burger - that is doused with sweet and creamy mayo. The breaded chicken is nice and crispy on the outside and is hot, moist and cooked perfectly to the inside, Fat Twins has you covered.
The Chilli Cheese Nuggets are the best sidekick for your meal, especially if you're looking for something different and full of flavour. They leave a mild warmth of chilli in your mouth after every bite. These nuggets are lovely and crunchy on the outside which then breaks down beautifully to an explosion of chilli and cheese, you will find the combination heavenly and addictive! If you're not quite the cheese lover, you can always indulge in the wings. They have lots of different types, but the most popular is the BBQ Wings as they are covered in a very tasty rich, sweet and smoky sauce - with chicken that is again cooked perfectly.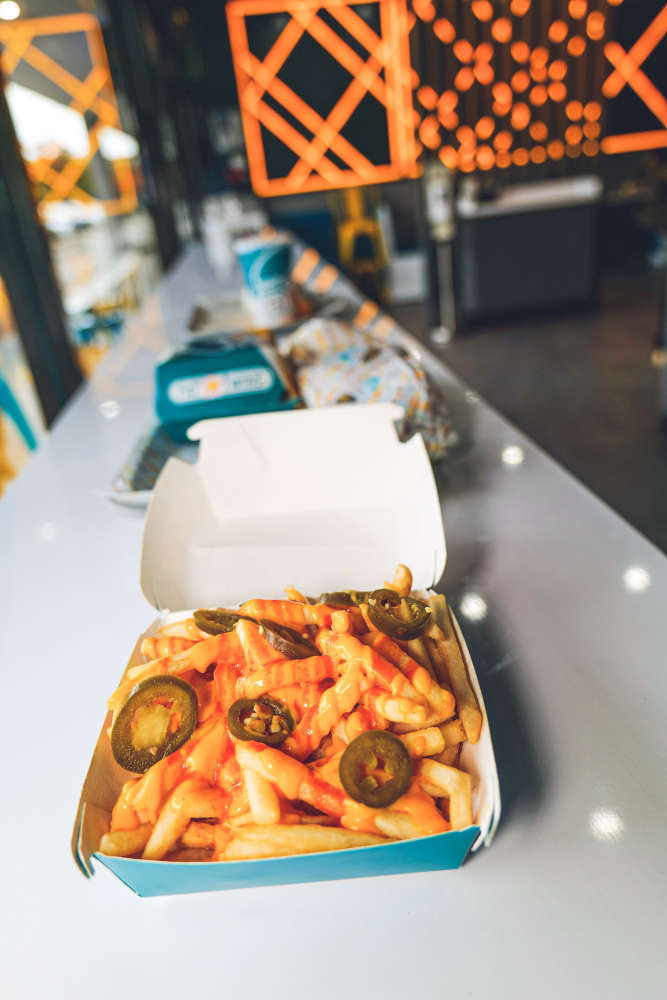 Now let's not forget the fries! Fries are a go-to side - especially at Fat Twins, as they are not shy with the cheese when it comes to the Classic Cheesy Fries and that's exactly how we like it! The fries are lightly salted and are immersed in melted gooey cheese. Fat Twins will certainly have you coming back for more once you experience their food, it's everything you want in a diner, where you can eat to your heart's content.
Fat Twins has a range of drinks on the menu including their new line of Karachi Chai, they are a tasty and unique addition. There are three chai teas up for grabs, the Original Karak, the Masala Chai and the Kashmiri Pink. You can enjoy nice cinnamon and spiced flavour with the Original Karak, the Masala Chai is based more on a spiced flavour alone and the Kashmiri Pink, which is actually pink, has a frothy sweet flavour. Besides Chai, you can also order different flavours of 7up which have not been seen much around Milton Keynes. For example you can order Cherry, Cocktail Exotique, Lemon and Mint and more. These flavoursome cans will definitely quench your thirst amongst the many other drink options that are available like Vimto, Coke and Sprite. The drink menu offers plenty of options for every individual taste, whether you enjoy fizz or a nice hot tea.
Fat Twins is super central and easy to find as they are located in the heart of Milton Keynes, it's the perfect diner to pop into after a busy day of shopping at the city centre or during your lunch break at work to keep your stomach full and satisfied for the rest of your shift. You can order your meal at the till or at one of the self-service tills provided, delivery is also available.
As mentioned, Fat Twins is known for their eccentric neon look that transports you to an amazing American diner as soon as you see it and step inside. You can see it during the day and I love it in the evening all lit up, looking pretty and alluring. Fat Twins also has an outside seating area where you can enjoy your meal in some fresh air especially when it's summertime, the choice is all yours.
Don't forget to grab yourself a Fat Twins balloon that is situated inside the diner to take home with you after your meal, whether it's for your children or that inner child in you, a fun way to end a fun and exciting experience!