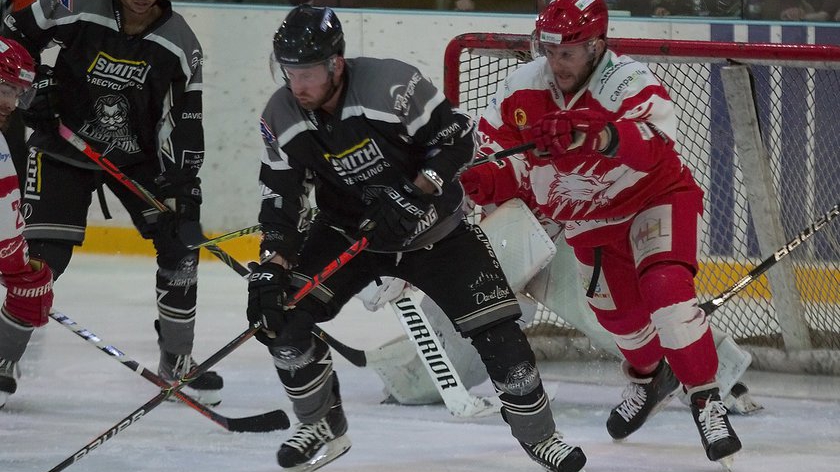 Image Credit: © Tony Sargent
The Smith Recycling Milton Keynes Lightning have today announced that veteran centreman Robin Kovar has signed with the team ahead of the 2020/21 season.
The 36-year-old Czech centre returns after an impressive spell in Milton Keynes last season, where he registered 14 goals and 36 total points in just 18 regular-season games.
He started the 2019/20 campaign with the Bracknell Bees, averaging almost a point-per-game before joining the Lightning on trial after the departure of Ari Narhi in November, signing on permanently after a quick start.
Averaging two points per game after the move, Kovar proved to be an exceptionally popular player among fans of the Lightning and formed a strong partnership with regular linemates Liam Stewart and Rio Grinell-Parke, both of whom are also returning next season.
Once drafted by the Edmonton Oilers in the fourth round (123rd overall) of the 2002 NHL Draft, Kovar was, unfortunately, unable to finish out the 19/20 campaign due to injury.
But now, once again donning the #30 jersey, the veteran forward will have a chance to play out an entire season with the Lightning and continue his long and impressive career.
Speaking of Kovar's return, head coach Lewis Clifford commented: "Kovy is a massively popular player in the room, a team-first guy who isn't out for personal stats or accolades. He just wants to win."
"Of all the changes we made last season, the biggest turning point in our fortunes for me was when we signed Kovy, who is a guy driven by success every day of his life both on and off the ice."
He added: "Following his injury last year I have never seen someone so driven to return to action as quickly as possible and I believe we would have seen him make an appearance in the playoffs had they happened."
"However, the extra rest will certainly mean he comes back in fantastic shape for next season."
He concluded: "It's easy for people to look at a players age and assume they are in the back end of their career, but when that player is in such good shape it really makes very little difference and I wouldn't be surprised to see Kovy still playing many years from now."
Kovar himself said of re-signing: "I am pleased to be part of the Milton Keynes Lighting organisation for season 20/21."
"Since my first game in MK colours, I felt like this team is a very special group of people with big dreams and goals. It's great to be part of such of great organisation again."
He concluded: "I will do my best to help the team achieve the highest goals and continue to build the very best ice hockey club in the UK."