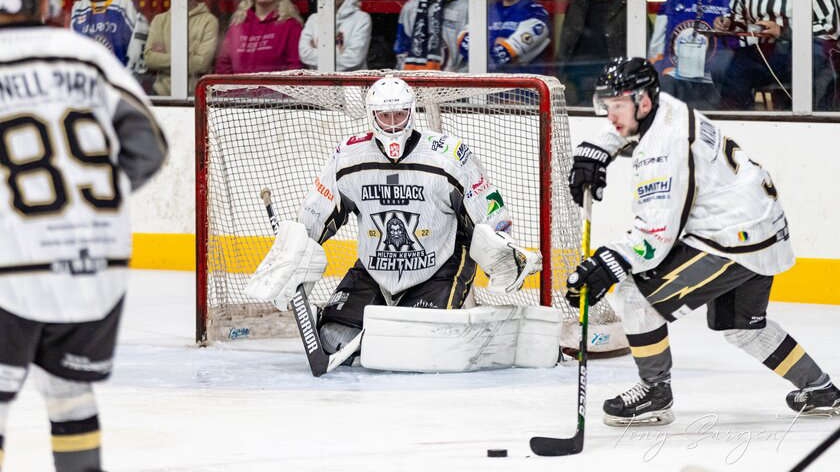 The All In Black Milton Keynes Lightning are set to kick off their 20th anniversary season this weekend when the League & Cup competition begins
The 2022/23 NIHL National season sees the Lightning celebrate 20 years of existence, having formed in 2002 after the relocation of the MK Kings to Solihull, and this year's jerseys sport a unique logo featuring the Roman Numerals 'XX' in commemoration of the anniversary.
The Lightning have already taken to the ice this month, having participated in a friendly scrimmage in collaboration with the Milton Keynes Thunder before splitting a home-and-away pre-season series with the Peterborough Phantoms, earning a 5-4 OT victory on the road after a 3-2 loss in front of their home crowd the night previous.
Now, the real business gets underway for the team, which will see American Tim Wallace return in a player/head coach role for the first time since his initial spell with the team during that infamous final season in the Elite League.
Wallace's side will kick things off with a visit from the Sheffield Steeldogs at Planet Ice MK Arena before a trip up the A1 to one of the league's newest additions in the Hull Seahawks.
All of the Lightning's fixtures up to and including the 19th November count for both league and cup standings, with a positive run helping to set up the possibility of earning silverware on multiple fronts - something the team will be aiming for after reaching the playoff final last time out.
Plenty of familiar faces have returned to the team this year, including club stalwarts Leight Jamieson, James Griffin and Lewis Christie, along with goaltender Jordan Hedley, whose experience in the EIHL and with the Great Britain national team will provide some genuine quality between the pipes.
Additionally, new faces such as Latvian forward Deivids Sarkanis and Belfast Giants prospect Mack Stewart will be looking to make their mark on a well-established team at this level, determined to seek league and cup honours in Wallace's first season back in charge.
This season will be anticipated arguably more than any other, with high expectations from the outset, and it all gets underway this Saturday (17th September) at 7pm at Planet Ice MK Arena.