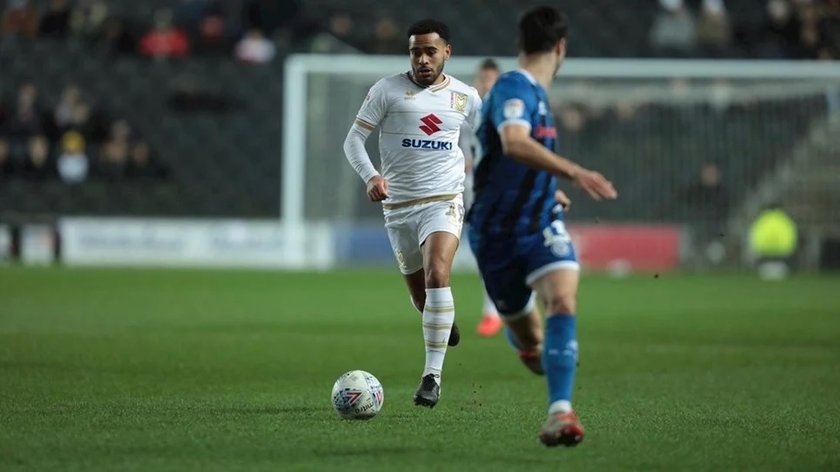 Image Credit: Milton Keynes Dons Football Club
Milton Keynes Dons have today confirmed that three players on loan at the club have returned to their parent clubs after the League One season was officially curtailed.
Goalkeeper Andrew Fisher, midfielder Louis Thompson and forward Carlton Morris have all returned to Blackburn Rovers and Norwich City respectively, with all having joined the Dons during the January transfer window, with Morris becoming manager Russell Martin's first signing in charge of the club when he arrived on 7th January.
Thompson and Morris were regular features in Martin's starting line-ups prior to the 2019/20 season being paused, and ultimately ended early, due to the ongoing Coronavirus pandemic.
Fisher, meanwhile, featured regularly on the bench, supplanting the previous incumbent backup Stuart Moore, but did not register a single minute on the pitch for the Dons.
With Martin today confirming that he has spoken to players about their futures with the club, it is clear that his attentions are firmly on next season and recruitment of new players will be a top priority for the former Scotland international.
All three players were brought in by Martin for a reason, but which of them could we see back at Stadium MK during the 2020/21 campaign?
Carlton Morris
Morris, the first of the loan signings made by Martin in January, became a regular starter for the Dons' attacking line, predominantly playing alongside top striker Rhys Healey in his ten League One appearances for the club.
After scoring three goals and adding a further four assists during his earlier loan with Rotherham United, who earned promotion to the Championship after the 19/20 season was officially ended, Morris provided two goals in his appearances at Stadium MK, providing the team with some flexibility due to his ability to play out wide.
Martin had faith in the former England Under-19 international, with the 24-year-old playing fewer than 80 minutes just once during his time in Milton Keynes, which incidentally came during his debut against Coventry City - a match in which he came on as a half-time substitute and scored to earn the Dons a point against the eventual league champions.
Due to Martin's relationship with Norwich, and Morris' clear enjoyment playing for the Dons, a season-long loan deal could certainly be on the cards as the club looks to navigate its way through a difficult financial period. Seeing Morris return to the Dons and form a longer partnership with Healey could certainly make fans happy during the new campaign.
Louis Thompson
Another player that joined the Dons on loan from Norwich was versatile midfielder, Louis Thompson. Thompson also enjoyed a promising spell after arriving in mid-January.
Having also previously been on loan to another League One club, this time Shrewsbury Town, Thompson was used regularly across the midfield, providing the team with a defensively responsible player, who made four interceptions and won 16 tackles in his seven starts for the club.
Typically deployed out wide, Thompson was a key supporting player during his time with the Dons, providing three crosses while playing in front of the likes of George Williams and Callum Brittain.
With the pandemic impacting clubs across the country, another loan deal could be realistic for the Dons, seeing Thompson return to provide Russell Martin with a player he trusts both on and off the pitch - with his character being one of the traits highlighted by Martin when his signing was originally announced.
Andrew Fisher
Fisher's loan move to the Dons was arguably the most surprising of the three, with Lee Nicholls entrenched as the team's starter with Stuart Moore viewed as a dependable backup by fans.
While he never saw action for the Dons, he appeared to push Moore further down the pecking order and would have been the preferred option had Nicholls needed to be replaced.
It seems clear that Martin is looking for something different in his backup goalkeeper, potentially seeing him target one in the next transfer window. Fisher's spell with the club was brief and didn't see him make a single appearance, so it is difficult to imagine he would be overly high up on the shortlist.
Martin appeared quite pleased to have him amongst the squad when he was signed in January, so if he is available for another season-long loan then that could be a deal Martin takes advantage of. If a better, permanent option is available, however, Fisher will likely be playing his football elsewhere in the 2020/21 season.