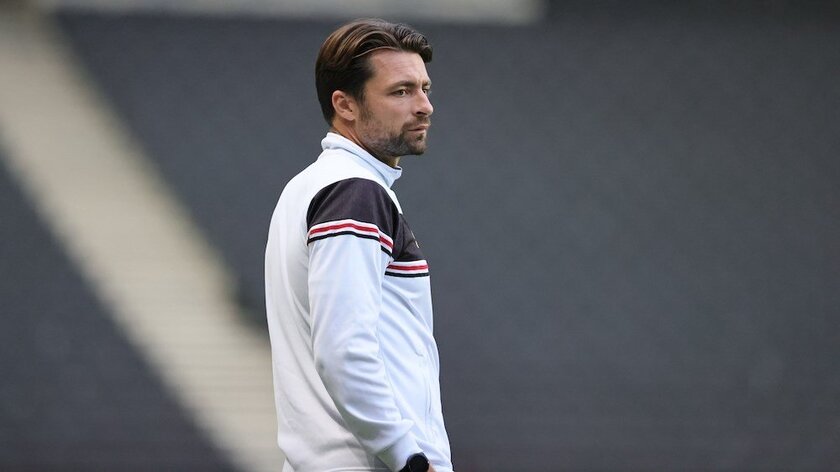 Image Credit: Milton Keynes Dons Football Club
Milton Keynes Dons boss Russell Martin is looking ahead to the January transfer window and is hopeful of getting his business done early.
The Dons manager had previously confirmed that preparations were ongoing ahead of the winter window, but has provided some clearer intentions just over a week before the window opens on Saturday 2nd January.
When asked at this morning's press conference about any January business, Martin commented: "Hundred percent, no doubt about it. The process started when the season started really and it's ramped up through November."
"We have weekly recruitment meetings, twice a week sometimes."
He added: "I think the most difficult thing for us has been not watching any players live this season, so it makes things a little bit more difficult so you're really relying on character references from a lot of people, the video analysis, the data, so it changes things a little bit."
"But, it started ages ago, we're really clear on what we need to help this team move forward and I think we are probably one or two players away from being really strong."
"So, we're really clear on that and that's part of having real clarity in what you're doing in the style and the identity of the team, which makes it much easier to know what we need and what we want."
He continued: "We're still trying to line up all of our top targets, then after that it's having a contingency plan and making sure that if we don't get number one, we can get number two and so on."
"January makes it a bit more difficult, obviously with Covid and what's happened with clubs it makes it more difficult, but we know what we want to do."
"The chairman and Andy [Cullen] have been really supportive. Liam [Sweeting], me, Luke [Williams] and Dean [Thornton] have chats about it constantly and we'll have another chat again today after training."
"I'm really comfortable with what we're going to try and do. You just hope you can do it as early as possible, because January tends to drag on and clubs try and get a better deal and they leave it later and later."
"One of my real frustrations last year was seeing how other clubs operated, saying no and then the last day of the transfer window everyone wants to do loads of business, which isn't a great way to do things really."
"We will try and do it differently and try to do it early, but I can't promise that because it's in the hands of the other clubs."
He concluded: "But we will be doing some business, there's no doubt about it, because we need a little bit of a hand in a couple of areas just to add to the really strong squad we've got here."