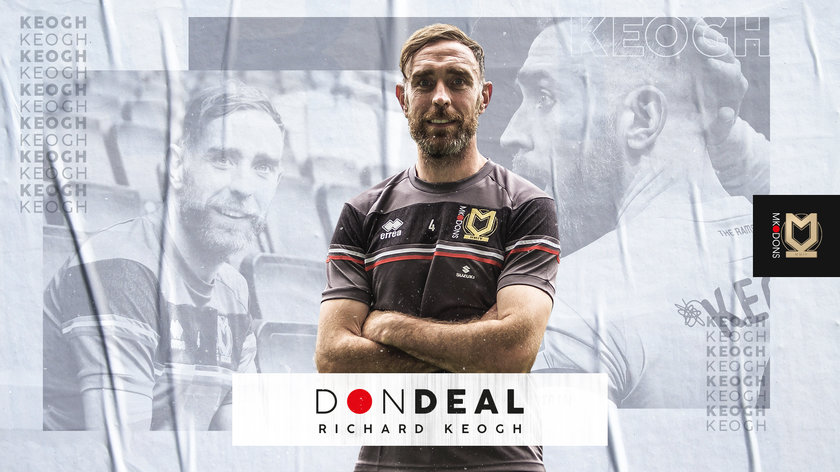 Image Credit: Milton Keynes Dons Football Club
Milton Keynes Dons have today announced the signing of veteran centre-back Richard Keogh ahead of the 2020/21 season.
The former Derby County captain joins a Dons team needing plenty of depth at the centre-back position, with Baily Cargill and Regan Poole the only other full-time players at the position after the departure of Jordan Moore-Taylor and the future of Joe Walsh still undecided.
The 33-year-old brings with him a wealth of quality experience, with 640 professional matches under his belt and the better part of the past ten years spent playing exclusively in the Championship.
Keogh was released by Derby after an incident where the Republic of Ireland international, capped 26 times for his country, was a passenger in a drunk-driving car crash alongside teammates Tom Lawrence and Mason Bennett.
After this, having been ruled out for more than a year due to the injury sustained in the crash, Derby told their captain that he could remain with the team but only if he took a significant pay cut, which he refused.
Now, he has a new opportunity to continue his career under manager Russell Martin and will be an extremely valuable piece to his hopes of a stronger finish in League One this season.
His international experience and his time playing in the second tier of English football, many years as a captain, will give the Dons plenty of strong leadership on the pitch as well as off it and will go some way to solidifying a position that Martin himself identified as the main priority in terms of new signings.
Speaking on signing with the Dons, Keogh commented: "I'm delighted to be here. Once I spoke to Russ and saw the vision and playing style he has – it just felt like the right fit for me."
"I can't be more excited, it's a fantastic set up here and I really believe in what Russ is trying to build here - I think it's going to be a perfect fit for me."
"When I saw he got the MK Dons job I was always keeping an eye out for how he was doing, to do what he did in the short space of time, to change the philosophy and the culture in that period was fantastic."
"We want to play an exciting brand of football and when you do that – people buy-in and feel excited about it."
He concluded: "I can't wait to get on the shirt and I'm looking forward now, I've missed a lot of football and you're getting someone who is going to be excited and hungry to play and push this team forward."
Speaking of his fourth signing of the summer, Martin explained: "I'm really pleased, this is one we've worked really hard for."
"Once I knew he was available I was desperate to bring him in. I know how much he'll bring on and off the pitch, I think he's exactly what we need in terms of the dressing room, and I think he'll bring as much off the pitch as he will on it."
He added: "I've talked a lot about the culture we're trying to build being just as important as anything and he's going to add a huge amount to us."
"He was desperate to come here and sees the project we are trying to build – that's so important that someone wants to be part of this football club."
He concluded: "He probably turned down more lucrative offers to play here and, for me, it's a massive signing and it's a statement from him to say he wants to be part of it. He's been my number one target in that position for a long time, so I'm delighted to have it over the line."