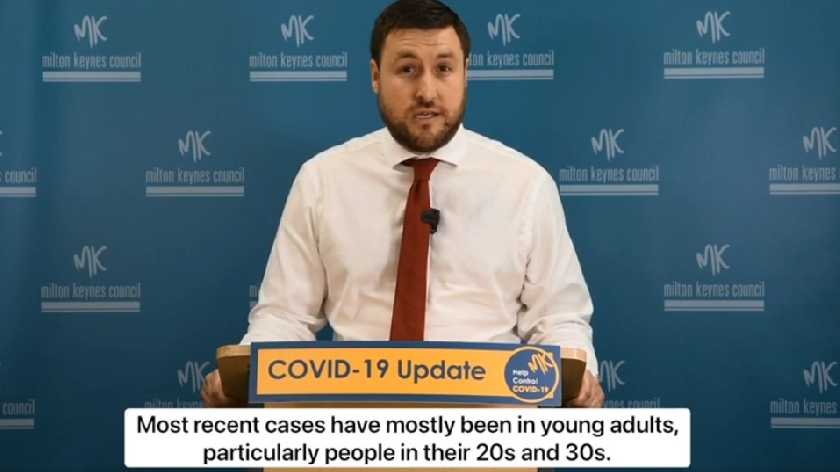 In his weekly COVID-19 video update, Peter Marland warns residents, "If people continue to not follow the guidance and cases continue to rise it is highly likely that restrictions will be reimposed here."
Mr Marland has today (14/08) revealed there have been 3,725 coronavirus tests carried out over the last fortnight, with 29 people testing positive for Covid-19.
The rise in cases means that Milton Keynes now has a case rate of 8.9 cases per 100,000 population, a rise from just 2.6 cases last week. In comparison to Luton's case rate which is currently 25.8 and Bedford's is 11 per 100,000.
Leader of MK Council states, "While the number of positive cases is still low, the increase is concerning."
Mr Marland adds, "I understand some people are fatigued and want to return to normal. However, our low numbers must not mean we become complacent. Covid-19 is highly infectious."
He reiterates, "There is still a responsibility on us all to stop the spread" by following government guidelines on hand washing, social distancing and wearing a face mask or covering in most public indoor places or public transport.
Mr Maland revealed, "Most recent cases have mostly been in young adults, particularly people in their 20s and 30s. And they've been across several areas of Milton Keynes, not just in one place." Read more about the exact estates in Milton Keynes with the most coronavirus cases here.
"Please help us control Covid-19 in Milton Keynes. The last thing we want to do is put local restrictions in place or have them imposed on us for a more serious outbreak."
"However, we will not hesitate to do so if we think it will save lives and if these early warnings do not help control the spread."