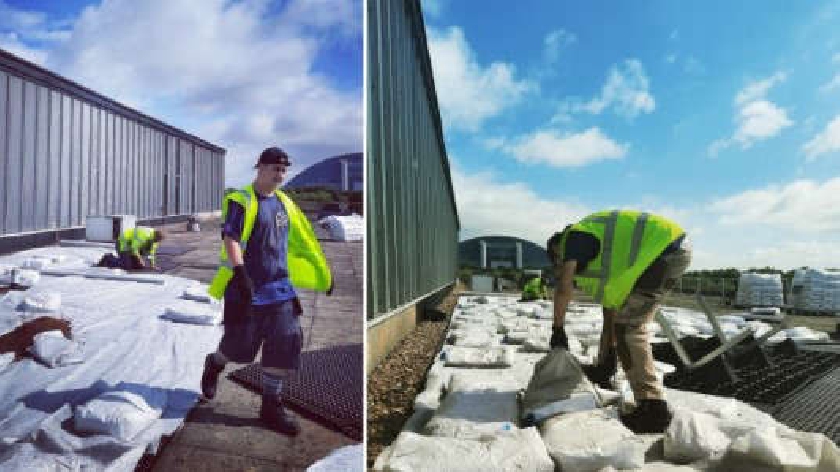 Photo: @GreenRoofMK on Twitter
Trainees from the YMCA have started to install the much-anticipated 'live lab' rooftop at Saxon Court.
Once complete, this will be the very first sustainable green rooftop in Central Milton Keynes that has the ability to grow fruit and vegetables.
The plans were unveiled by the developers and investors of Saxon Court, the former civic offices, to encourage biodiversity.
The temporary project, which started on Tuesday (10/8), has created training and development opportunities for local young people.
YMCA MK residents are currently undergoing training and will be awarded certifications in the installation and maintenance of green roofs when the project is complete next year, providing them with the skills to meet future employment opportunities.
A spokesperson for the YMCA said: "Our residents have been working on the Green Roof MK over at Saxon Court. We're so excited to see the project come to fruition!"
Our residents have been working on the @GreenRoofMK over at @saxoncourtmk. We're so excited to see the project come to fruition! 🌿#youthemployment #YMCAMK #greenroof https://t.co/VWjfgNcfUx

— YMCA Milton Keynes (@MKYMCA) August 10, 2021
Delivering substantial environmental benefits of living roofs within urban areas, the Saxon Court initiative is also in alignment with Milton Keynes' ambitions of becoming carbon neutral by 2030, and carbon negative by 2050.
The initiative also aligns with developers First Base and investors Patron Capital's commitment to deliver over £300m of social value over 20 years, including support for local employment, training, and skills.
The development has also signed up to the Milton Keynes Cornerstone Employment scheme, with a focus on delivering employability support for local young people.
READ MORE: £180m plans for redevelopment of Saxon Court in Milton Keynes have been submitted