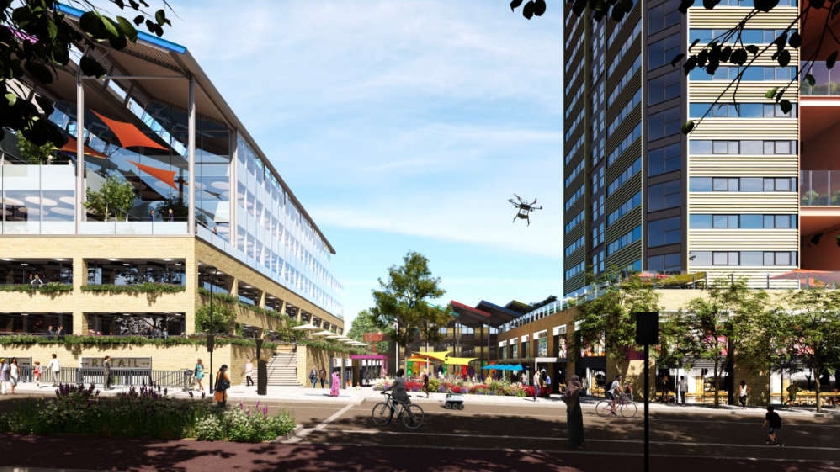 A planning application for the redevelopment of Saxon Court, the former civic offices, has been submitted to Milton Keynes Council.
The 2.35 acre site, which will be known as MK Gateway, will see the construction of a mixed-use development with 288 apartments, shops, cafes, and more in a 27-storey tower block.
The developers wish to build two buildings called The Shed and The Village. The Shed will be for local businesses, while The Village is focused on urban living.
It will see the "retention, refurbishment, and extension" of the original Saxon Court building, delivering high-tech office space and flexible co-working areas.
The developers say that the existing atrium space will become an indoor public square, with local independent food, drink, and leisure spaces, connected to an outdoor 'village green' which will host pop-up activities and events.
MK Gateway will provide the equivalent size of 19 tennis courts worth of publicly accessible space, creating a new neighbourhood.
First Base, the developers, and Patron Capital, the investors, acquired Saxon Court from Milton Keynes Council in October 2020.
They have since conducted a complex consultation programme, engaging with thousands of local residents, businesses, and stakeholders, with over 6,000 responses received.
Delivering 288 apartments for rent, the proposed development is set to be the first in Central Milton Keynes to comply with MK Council's affordable housing policy, with over a third (31%) of homes available for a discounted market rent. Incorporating a UK first, the Village will feature 11 vertical gardens, totalling 4,500 square feet, for residents to share.
A spokesperson for MK Gateway explained: "Representing a local investment of £180 million, and the creation of over 2,000 jobs, the plans are in alignment with Milton Keynes' Strategy for 2050 to fuel the long-term evolution of Milton Keynes as a city of the future.
"In addition, the Shed will offer dynamic workshop space for local SMEs. Businesses from all industries will benefit from the flexible space, which will nurture and support new innovations and collaborations to drive business growth in the region."
They continued: "Setting new benchmarks, MK Gateway will deliver over £300m in social value over the next 20 years, providing long-term community benefits from local employment and training opportunities and improvements to local health, wellbeing, and the environment."