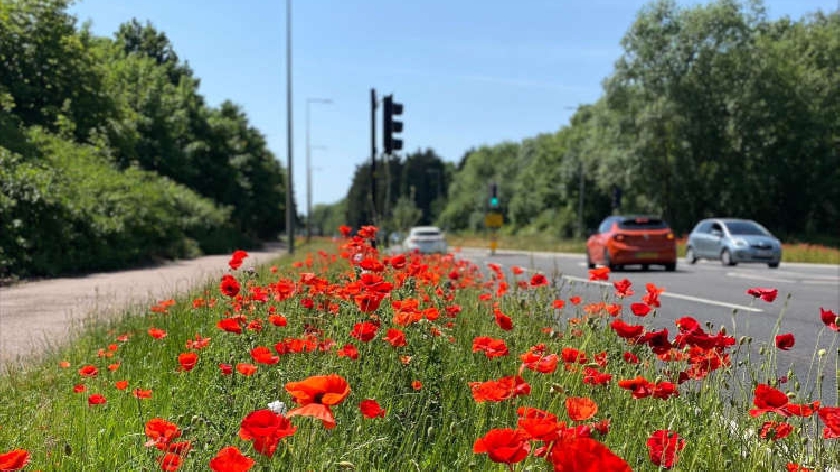 Wildflowers are beginning to bloom across MK's famous grid roads
A sea of colourful wildflowers are starting to bloom along MK's famous grid roads, roundabouts and along the edge of underpasses after Milton Keynes Council sowed wildflower seeds across the city to encourage biodiversity.
One of the Council's priorities is to increase biodiversity around the city as part of its wider work to tackle climate change.
Over 1,000 pollinating species such as bees and beetles are already benefitting from Council work to increase wildflower verges and meadows. As well as the sowing of wildflowers, sedum plants have been planted on top of a number of on bus shelters to help support biodiversity.
Cabinet Member for the Public Realm, Cllr Lauren Townsend said: "Our ambition is for Milton Keynes Council to be carbon neutral by 2030 and for MK to become one of the world's leading sustainable cities.
"With small changes to enhance the space it will act as a catalyst to encourage biodiversity, which is another small step forward in our bigger work to tackle climate change."
MK Council's Golden Grids project is currently underway across Milton Keynes, with the aim of improving the look and feel of the roads which span across the entire city.
Over the past few months, the Council's Highways and Environment teams have been cleaning, repairing and litter-picking the H5 Portway and H8 Standing Way. Over 7 tonnes of litter has been collected and 128 tonnes of waste and debris, the equivalent of 11 double decker buses.