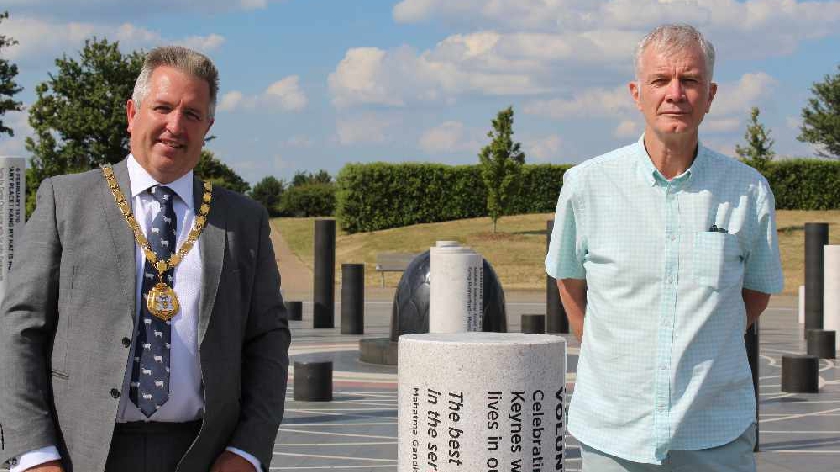 To mark Volunteers' Week (1-7 June), the Milton Keynes Rose has unveiled a new pillar dedicated to just that.
At a time when volunteers have been needed more than ever and have quite literally saved lives, Milton Keynes has honoured its volunteers who have worked not just in the last few weeks but for decades.
Yesterday (1/6), The Mayor of Milton Keynes Cllr Andrew Geary unveiled the new Pillar at the Milton Keynes Rose to mark this annual week. The pillar inscribed with a quote from Mahatma Gandhi says "the best way to find yourself is to lose yourself in the service of others".
In his speech, the Mayor said: "Volunteers have never been more needed; they underpin our society, in these unprecedented times there is no more appropriate time to be unveiling a pillar to celebrate volunteers and at the beginning of Volunteers' Week".
The Mayor was joined by Community Action MK's Chair of Trustees Danny Conway who added: "We are very proud that the City has recognised the importance of volunteering. The role of volunteers has been vital, and what it has also highlighted is the importance of ensuring voluntary activity is valued and supported by all City Partners now and into the future".
The unveiling comes in a week where a number of Milton Keynes' Voluntary Organisations have been awarded a Queens Awards for Voluntary Service. Find out more here.
The Milton Keynes Rose, designed for the City by Artist Gordon Young, has pillars to mark and commemorate many occasions both happy and sad throughout the year. The Milton Keynes Rose would like to thank Community Foundation MK for their support of the development of the new pillar to mark volunteering. They are also excited to unveil another new pillar later this month to mark World Refugee Day on the 20th June.