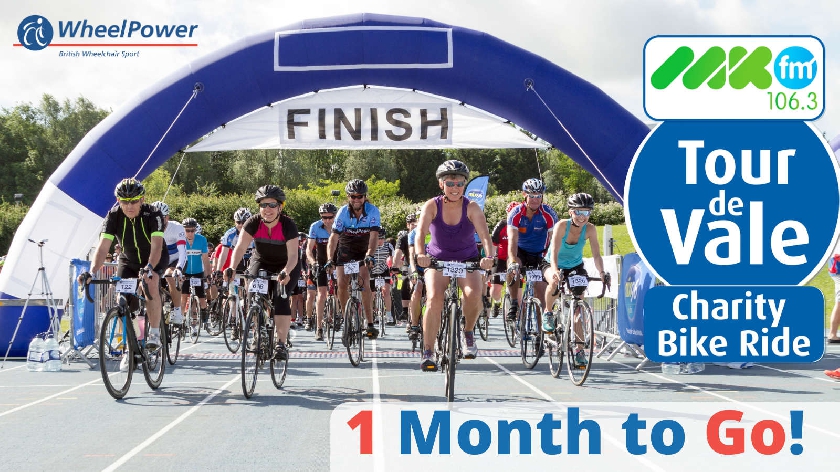 The 2021 MKFM Tour de Vale will be returning to Buckinghamshire in just 1 months' time.
Organisers WheelPower are looking forward to welcoming riders back to Stoke Mandeville Stadium for a celebration of cycling, community and charity at the Birthplace of the Paralympic Movement.
On Sunday September 19th, hundreds of cyclists will be starting their rides in support of WheelPower (the national charity for wheelchair sport).
This will be the 17th year of hosting the event and with thanks to the tremendous support of the local community, we look ahead to another great event at Stoke Mandeville Stadium.
Riders of all ages and abilities will be set off on their way as they take on one of three countryside routes. The 25km route is perfect for families (under 16's cycle for free) and there are more challenging rides of 70km and 115km for more experienced cyclists.
No matter which route you choose, there will be plenty of smiles to be had and along the way you will find water stops, friendly marshals and support vehicles to make sure everyone stays safe from beginning to end. On your return to the Stadium, you will be rewarded with a finishers medal, free massage, entertainment from MKFM as well as a well-earned BBQ! Why not ask family and friends to join you at the finish?
With the sunshine set to return, now is a great time to dust of your bike and do something amazing for charity this September. In 2019, the event attracted over 1,400 riders and raised over £55,000 and this year WheelPower need your support more than ever before.
Every single penny raised by taking part in the 2021 Tour de Vale will mean that WheelPower can continue to transform the lives of disabled people through sport and activity. During the Covid-19 pandemic, the charities online resources helped disabled people to stay active during the most difficult of times and now as things slowly open again, the restarting of the national programmes will mean even more people can benefit from our vital work.
Jo Hall, Ride Director, said: "We are so looking forward to the 2021 Tour de Vale alongside our new title sponsors MKFM. Ever since we first hosted the event back in 2003 this annual ride has continued to grow with the support of our community partners and local riders, who have returned year on year.
"After having to run a virtual event last year we now are so excited to return to a Tour de Vale that everyone is familiar with and now with a month to go, we hope you come along on Sunday 19 September, and join us for the ride!"
To find out more about this year's event and to sign up for the 2021 MKFM Tour de Vale please click here.
Volunteering at the 2021 Tour de Vale - If cycling isn't for you, you may like to volunteer to marshal on the day along the routes? Just a couple of hours, full instructions, high vis jacket and packed lunch will be supplied! Please contact info@tourdevale.com or call 01296 395995.
READ MORE: Volunteers needed for the 2021 MKFM Tour de Vale
FREE bike check Sunday 12 September - WheelPower and Mountain Mania are holding a FREE bike health check in preparation for the MKFM Tour de Vale. This is only for cyclists who have entered the ride and will be held at Stoke Mandeville Stadium. Booking is essential, email info@tourdevale.com or call 01296 395995.
READ MORE: Free Bike Check for 2021 MKFM Tour de Vale riders