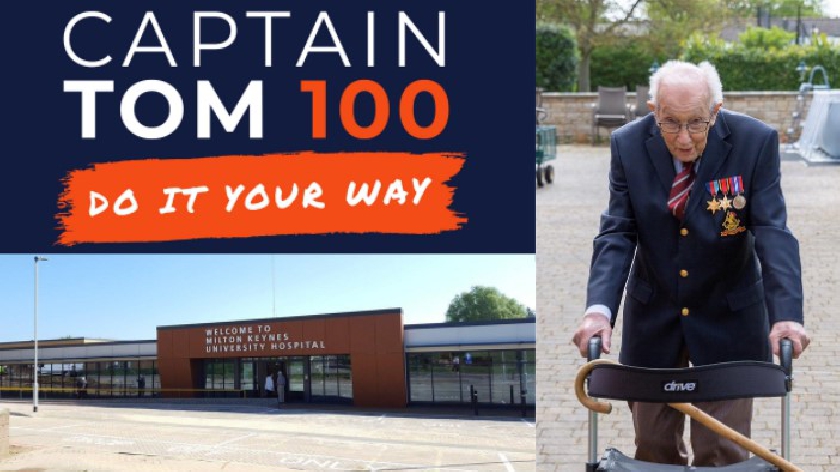 Locals are being encouraged to take part in the Captain Tom 100 Challenge to raise money for patients and staff at Milton Keynes University Hospital. 
The challenge, which has been set up by The Captain Tom Foundation, asks people to set themselves a task centered around the number 100 which will be completed on the May bank holiday weekend, from 30th April to 3rd May.
It can be anything at all, ranging from scoring 100 goals, writing 100 lines of a poem, to drawing 100 pictures.
Hannah Ingram-Moore, Captain Tom's daughter and voice of the Captain Tom Foundation, explains: "We want people to go crazy and create their own 100 - a challenge around the number 100.
"Because he was 100 and he was so proud to be 100.
"We thought of whether it should be 101, but it's definitely 100 because that year he lived being 100 was the best year of his life, almost certainly."
People are being encouraged to complete the challenge in aid of a charity of their choice, and Milton Keynes Hospital Charity is asking for locals to raise the much-needed funds for them.
The registered charity is dedicated to enhancing the experience of patients, their families and staff at Milton Keynes University Hospital.
Staff behind the charity have been providing wellbeing support to hospital staff during the pandemic. At the start of the year, the charity launched a 'wish list' encouraging the public to purchase much-needed items for hospital staff, including hand sanitiser and shower gel. Donations from members of the public helped make this possible.
Jenny Howells, Senior Fundraiser at Milton Keynes Hospital Charity, said: "We are really excited about the launch of this inspiring event. All you need to do is come up with a challenge based around the number 100 and do it between Friday 30 April and Monday 3 May.
"You could cycle for 100 minutes, bake 100 cupcakes, or walk 100 laps of your garden just like Captain Tom! It's such an easy activity for anyone to get involved with, and as long as you are following Government guidelines surrounding Covid restrictions, you can do whatever you'd like, and we would love you to support our charity".
If you'd like to find out more or to get involved please visit www.mkhcharity.org.uk or email fundraising@mkuh.nhs.uk.