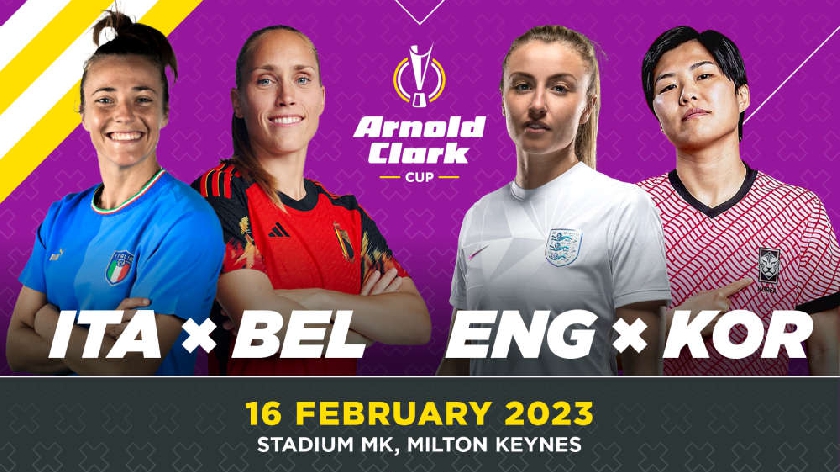 Stadium MK is set to host the Arnold Clark Cup this February as the tournament returns to England and there is still time to get your tickets.
Four of the world's top 20 teams will be battling it out for the Arnold Clark Cup trophy as the tournament returns to England.
Following a huge summer of women's football, including four record-breaking EURO 2022 games at Stadium MK, the home of MK Dons are set to host a doubleheader with defending champions and UEFA Women's Euro 2022 winners England being joined by Italy, Belgium, and Korea Republic in the round-robin tournament.
Milton Keynes' very own Leah Williamson will captain the European champions at Stadium MK.
Each team will play as part of a double-header fixture at the 30,500 capacity Stadium MK in Milton Keynes on Thursday 16 February 2023 with Italy v Belgium kicking off at 4.45pm followed by the Lionesses v Korea Republic at 7.45pm.
Tickets can be found here.
Find out more on the Stadium MK website.
Following the success of the Lionesses this summer, Milton Keynes City Council announced that Leah Williamson will be the first person to be given freedom of the new city.
In a 2-1 victory against eight-time champions Germany, the Lionesses created history with the first major tournament title win for an England team since 1966.
READ MORE: Leah Williamson to be first person given Freedom of the New City of Milton Keynes
PODCAST: Listen to Bex Smith, former World Cup and Olympic footballer for New Zealand, Bex Smith, now a Global Executive at Crux Sports, tell Michael all about The Arnold Clark Cup Tournament coming to Stadium MK on the 16th of February.