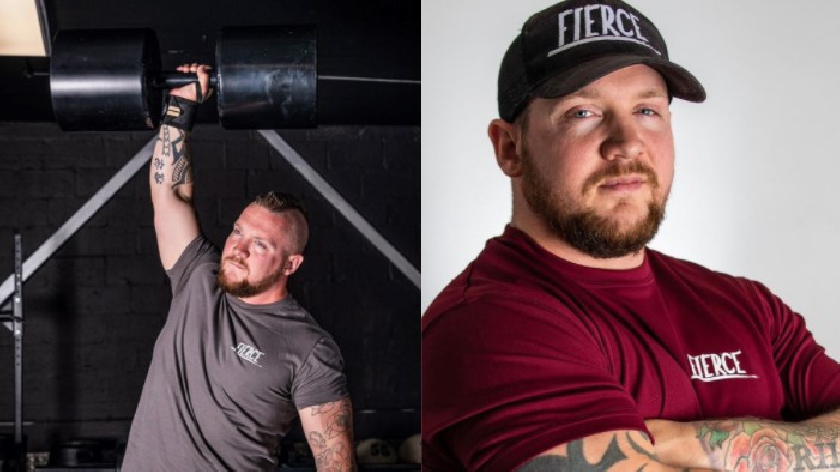 A 33-year-old from Milton Keynes will attempt to break a lifting record at the UK's Strongest Man competition next month.
Thousands of spectators will be visiting Stadium MK during the May Bank Holiday weekend to watch 16 strongmen compete to win the title of the UK's Strongest Man.
And during the Grand Final on 31st May, a local strongman will be taking over the half-time show to try and break a British record.
Andy Curtis, who runs strongman classes at Fierce Gym in Wolverton, will be attempting to break the Giant Dumbell lift record for his weight category.
This is where the individual will lift a heavy dumbell from the ground to get it in their shoulder, then pressing it up in the air until the referee gives the 'down' command.
The current British record for his weight category is 105kg, and Andy believes that that he will beat it.
He said: "I don't know how much I plan to beat it by yet but I'm very confident it will be achieved.
"With lockdown easing next week I look forward to the return of Fierce Gym opening where I will be completing all my training in preparation for this record attempt!"
Andy Curtis has always been interested in the gym, and decided to purse competing in strongman around four years ago.
He continued: "At the time I started training for strongman, I was suffering from mental health struggles/anxiety and this very quickly became my coping mechanism. You'll find a lot of people who compete have a similar story.
"The strongman community is one of the best around, you make friends for life. The support for each other is great and is the only sport you'll find where the person you compete against is the same person cheering you on to win! I very quickly fell in love with the idea of using my own experiences to get people involved in the sport and using strongman/woman or general strength training as a means of dealing with mental health struggles."
The passionate strongman enjoys spending his time at Fierce Gym, where he runs strongman classes, workshops, and a 10-week specially designed programme that anybody can take part in.
"Trust me when I say you don't have to be 6 foot plus and weigh 180kgs," Andy added. "I have very successfully just completed my first 10-week programme (which lasted 8 months because of lockdowns) of which some of the guys have gained a massive love for the sport and made huge lifestyle changes."
He concluded: "I plan on making a big impact in this sport, not just in my own competing - but growing the sport and getting people involved. The next big thing after this is in July where I'll be attempting to qualify for the World's Strongest Man out in Florida! There are lots of big things this year so you'll have to keep an eye out for an update on that!"
READ MORE: UK's strongest man competition set to be held in Milton Keynes this year