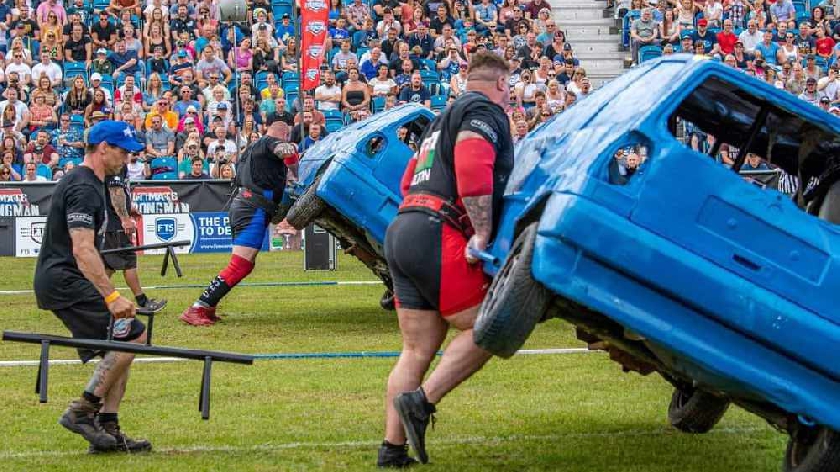 The iconic 2 Man Car Roll
The UK's annual strongman competition will be held in Milton Keynes this year, taking place at Stadium MK and being broadcast to the nation.
It will see the 16 strongest men from across the UK compete to win the title of the UK's Strongest Man, with competitors such as Ireland's strongest man Matthew 'The Real' McCoy and Mark Felix 'The Dark Destroyer' from England, who at 54-years-old is the oldest competitor, taking part.
The event, held across the May Bank Holiday weekend, will be hosted by former professional footballer and TV presenter Chris Kamara.
Thousands of visitors are set to descend on Stadium MK to watch the action unfold while sitting outdoors in a socially distanced setting.
Competitors will take part in gruelling tests and stunts, such as the iconic '2 Man Car Roll' where strongmen attempt to lift up and roll a car over completely, then pick it up again and do the same once more.
Other tests include the 'Stones Of Strength'; strongmen will have to lift 22-inch stones as heavy as 100kg, 115kg, 130kg, 145kg and 160kg in the fastest time.
The competition - including the Quarter-Finals, Semi-Finals, and Grand Final - will be filmed and broadcast on Channel 5.
The biggest outdoor Strongman event on the planet is back on the 29th/31st May💪🏾UK Strongest Man is at the MK Dons Stadium in Milton Keynes!💪👊💥Bigger and better than ever before.Biggest UK stars💫, performing mind blowing strength tests💥💪,it's a fun packed family 👨‍👩‍👧‍👧weekend https://t.co/Fje7ytmKtg

— Chris Kamara (@chris_kammy) April 6, 2021
A spokesperson for the UK's Strongest Man said: "This UK championship will be 4.5 hours of mind-blowing action. The 16 of the strongest finalists of the UK will be gathered, 13 gruelling tests and many other record stunts across this family entertainment weekend. We will have world class legends in attendance, stalls, challenges and much, much more! The long wait is near over...The UK's Strongest Man 2021 filmed for Ch5 is on!!!"
It will take place at the Stadium MK on 29th, 30th, and 31st May 2021. For more information, and to purchase tickets, please click here.