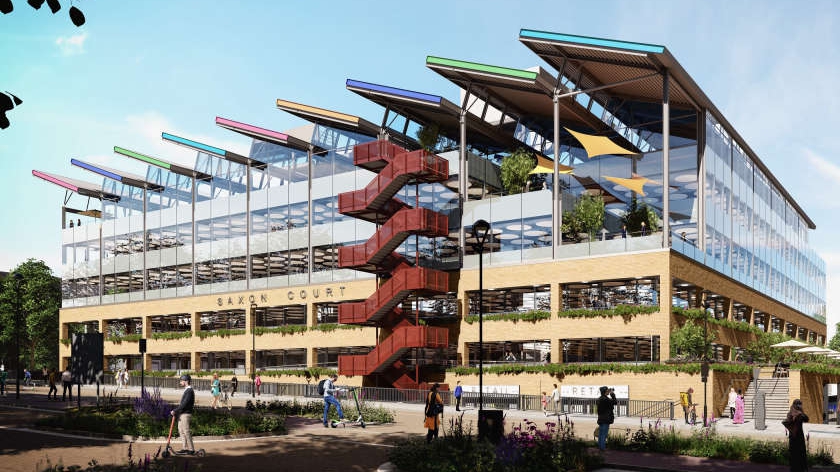 Developers working on the proposed new Saxon Court project are aiming to create a sustainable future for the building.
The developers are working with environment experts Bioregional, using their globally renowned One Planet Living® framework.
Following the release of the Intergovernmental Panel on Climate Change's (IPPC) landmark report, mixed-use developers First Base, together with investors Patron Capital and Bioregional, have announced its sustainable goals for the redevelopment of the iconic building.
Created following a comprehensive needs analysis of the local and city-wide sustainability requirements, these objectives respond to the climate emergency and are in alignment with Milton Keynes' own sustainable ambitions, as set out in the MK Futures 2050 strategy.
Bioregional's One Planet Living framework, developed in partnership with WWF, has to date been applied to roughly $30 billion-worth of development across the world.
Some of the key points planned under the sustainable framework for Saxon Court include:
The retention of the original Saxon Court building, which will save over 3,750 tonnes of Co2
The creation of 4,500 square feet of vertical garden villages – equivalent to the size of nine squash courts – a first for the UK, and an innovative solution to communal outdoor space
An increase in Biodiversity Net Gain by a minimum of 10%, which means there will be more diverse green space in an area than there was before the project was started
The creation of Milton Keynes' first, highly sustainable, "live lab" green rooftop
Zero fossil fuel combustion on site with an all-electric energy solution, including the integration of electric vehicle charging points and a new cycle hub
A 100% diversion of waste to landfill
Lewis Knight, from Bioregional, said: "It's our role to ensure that sustainability remains at the forefront of plans and designs for this new gateway to Central Milton Keynes. For instance, retaining the existing Saxon Court building will save over 3,750 tonnes of Co2.
"Our One Planet Living framework will be ingrained throughout this ambitious re-development; reducing waste, supporting wildlife, providing new green space, and utilising clean technologies."
Steve Eccles, Project Director, First Base, said: "This project will achieve new benchmarks for local sustainability, responding to the climate emergency and supporting local aspirations for a greener, healthier Milton Keynes."
Chris Bridgman, Managing Partner of Bridgman & Bridgman who are working with First Base to create the live-lab for a green roof on Saxon Court, said: "Green roofs are a vital tool for climate action and for helping Milton Keynes become the greenest city in the world. We are delighted to be working with
"First Base to demonstrate the huge benefits living rooftops can deliver, which include achieving greater energy efficiency and increasing biodiversity."
READ MORE - Work starts on installing new 'live lab' rooftop in Central Milton Keynes