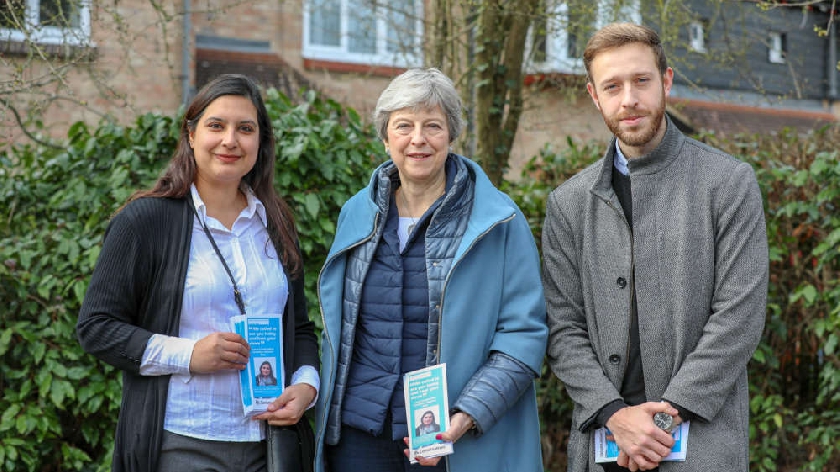 Cllr Saleena Raja (Left), former Prime Minister Theresa May and former Conservative Leader Alex Walker (Right)
A Conservative spokesperson has given a statement to MKFM after we exclusively revealed that the leader of the local party has resigned.
This morning (18/5), MKFM reported that the new leader of the MK Conservative group had resigned.
Cllr Saleena Raja was made Conservative leader less than two week ago after the former leader, Cllr Alexander Walker, stepped down.
MKFM has now been told that the new deputy leader, Manish Verma will be stepping up temporarily.
A conservative spokesperson said: "Having been appointed, Saleena begun to understand the enormity of the role and realised it wasn't going to be possible to carry it out with other work and family commitments. Manish Verma is serving as group leader until a group meeting when the matter will be discussed and a new leader appointed."
The party is still yet to update their social media, where currently the announcement of the new leadership is pinned.
The post reads: "We are delighted to announce our new ambitious leadership team! Cllr Saleena Raja is the new Leader of the Conservative Group and Cllr Maneesh Verma will serve as Deputy Leader.
"As MK Council's largest party, we are committed to delivering change and serving the people of MK."
READ MORE: BREAKING - Conservatives in turmoil as Milton Keynes leader resigns
Following the local elections on May 5th, despite Conservative Group being the largest party, Labour and the Lib Dems have joined together hold the most amount of seats.
Labour Councillor Pete Marland will remain as Leader of the Council, and Liberal Democrat Councillor Robin Bradburn remains Deputy Leader.
Nationally, the Conservatives lost hundreds of seats to Labour. Councillors have been increasingly concerned on the effect of the scandals in Westminster on local votes.