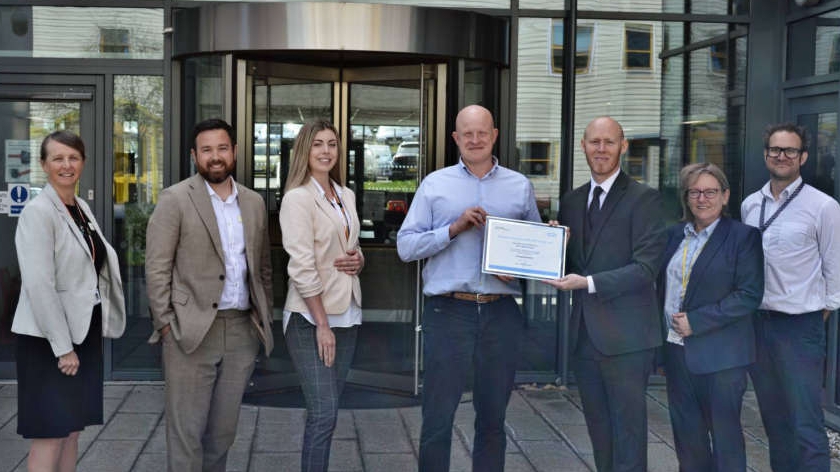 Milton Keynes University Hospital
Milton Keynes University Hospital NHS Foundation Trust has been recognised as one of the leading NHS organisations for digital innovation.
It comes after receiving accreditation from NHS England and NHS Improvement (NHSEI) as part of its Global Digital Exemplar (GDE) programme.
The accreditation was presented at a ceremony at the hospital on 20 April 2022,
It means that MKUH is now recognised as an organisation which is internationally renowned as using digital innovations to:
Improve patient care and experience
Enhance and assist staff to do their jobs
Harness the power of data to improve healthcare services in the future.
Since joining the programme 5 years ago in 2017, MK University Hospital has introduced systems such as eCare, Office 365 - allowing staff to work remote and deal with COVID, MyCARE and an Apple partnership.
Craig York, Chief Information Officer for MKUH, said: "As a Trust, we have an appetite and willingness to embrace digital innovation and this has often seen us lead the way, both in terms of the NHS and also the global healthcare landscape, on some important work that has helped to improve the health and the experience of both our patients and staff in Milton Keynes.
"Being part of the GDE programme has meant we can share ideas and feedback with like-minded trusts and utilise the expertise of the national team to help us harness the power of digital technology to improve the care we offer patients.
"We are delighted the accreditation recognises all of the work we have undertaken and we hope it signals our intent to keep improving and innovating for the benefit of local people."
Dermot Ryan, director of frontline digitisation at NHSEI, said: "The team at Milton Keynes are demonstrating how digitally enabled care can empower staff and the citizens they serve. Enabled by the trust's EPR and tech to support flexible and remote working, staff are able to access the information they need when and where they need it. Through the patient portal and innovative smartphone tech, patients are able to use digital technology to manage their own care safely and conveniently."
You can read more here.