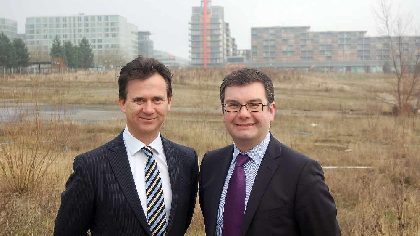 Milton Keynes MPs Mark Lancaster and Iain Stewart have welcomed newly announced tough plans to ensure housebuilders build the homes local residents need while also protecting the greenbelt.
The plans were announced by Prime Minister Theresa May and Communities Secretary Sajid Javid today.
It comes after Javid gave an interview over the weekend in which he pledged to construct five new 'garden towns' close to Milton Keynes.
The plans will tackle head-on, cases where developers acquire planning permissions but delay construction, resulting in what is referred to as 'land banking'.
In addition to this measure, a standardised formula for calculating local housing needs will be created which means the integrity of the system for calculating housing requirements are enhanced, and local authorities could lose some of their powers if they fail to build houses in their areas.
According to the Local Government Association (LGA), it was earlier this year revealed that almost 420,000 homes that received planning permission in 2017 are still waiting to be built.
Sadly, this trend also applies in Milton Keynes where numerous planning permissions granted have not resulted in affordable homes being built.
Commenting on these set of announcements, Milton Keynes MPs Iain Stewart and Mark Lancaster said "Today's statement by the government will go a long way in addressing the concerns of residents and those who attended the Milton Keynes Homelessness Partnership meeting we organised at Acorn House a few days ago."
"Taking into consideration the investment in the Oxford-Cambridge-Milton Keynes corridor, increasing our local and regional housing stock is vital to making a success of this opportunity. It also means we will have the infrastructure in place to accompany local expansion. We are determined to keep working with local stakeholders and partners in ensuring the much needed affordable housing for our area is provided."