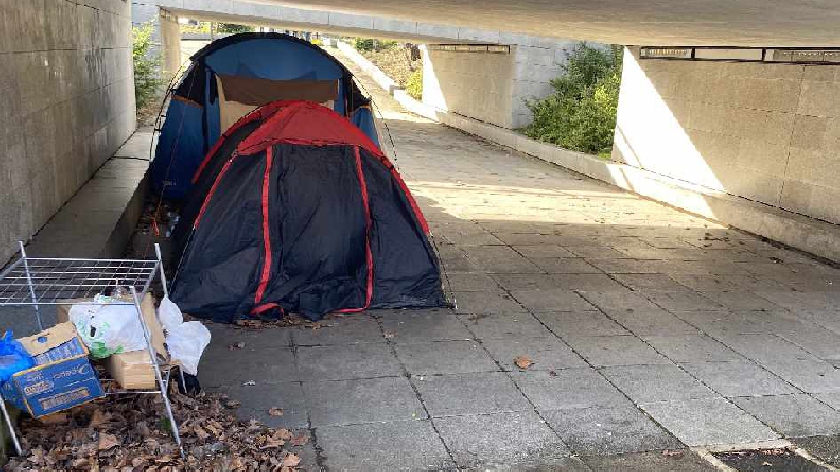 MK Council's Cabinet Member with responsibility for Rough Sleeping and Homelessness has said they remain determined to help everyone off the streets for good.
Last week, staff at The Winter Night Shelter in Milton Keynes told us they had filled its bed spaces for this winter but cannot yet open due to lack of volunteers.
Every year, the Winter Night Shelter Milton Keynes saves people in crisis from the risk of death from exposure on the streets and works with them to rebuild their lives.
The charity appeared on ITV speak about its urgent need for volunteers this winter.
MKFM reached out to MK Council to find out more about the current homeless situation in Milton Keynes and what is being done.
Councillor Emily Darlington, Cabinet Member with responsibility for Rough Sleeping and Homelessness, said: "We've helped over 1,000 statutory homeless people into temporary accommodation and ensured they have a safe and warm place to live. These are people who may have been evicted by landlords, suffered a relationship breakdown, or unable to pay rent.
"There are still some people sleeping rough in MK which we're aware of, and our outreach team works every day to encourage them to take up offers of accommodation. The reasons people don't take up an offer are often complex, but the Council and its partners remain determined to help everyone off the streets for good. We never give up on anyone."
Recent work to tackle homelessness in Milton Keynes by the council includes extending vital support for homeless vulnerable adults – giving life changing to young parents and vulnerable adults by extending funding for two in-demand services run by The Salvation Army.
30 new homes were also purchased following a successful bid for national funding.
Cash incentives are also being offered to landlords in Milton Keynes from MK Council if they're able offer longer tenancies to families that have previously been made homeless by the private rental sector.
The Council has also recently teamed up with DePaul in aim to offer support to more than 100 young people facing homelessness, helping them reconnect with their families and rebuild relationships.
Despite recent works, the Winter Night Shelter in Milton Keynes has a full waiting list of rough sleepers awaiting a bed prior to opening.
Sara Millington, Senior Communications Manager for the Winter Night Shelter, said "We usually manage to recruit and train all our volunteers and then launch the shelter service to rough sleepers, at which point the bed spaces gradually fill up.
"This winter is back-to-front: we have a full complement of rough sleepers awaiting beds but haven't yet had sufficient volunteers step forward to enable us to open the shelter. For every night we can't open our doors there will be 15 people sleeping rough in the cold. We are calling on the good people of Milton Keynes to play their part and volunteer for one of the many roles we have available."
DePaul is also helping the council search for local volunteers for Nightstop.
Nightstop offers young people a spare bed for one night, instead of them spending that first night on the streets.
This buys valuable time for other support arrangements to be made.
READ MORE: Milton Keynes' Winter Night Shelter in need of volunteers as they're met with full waiting list before opening