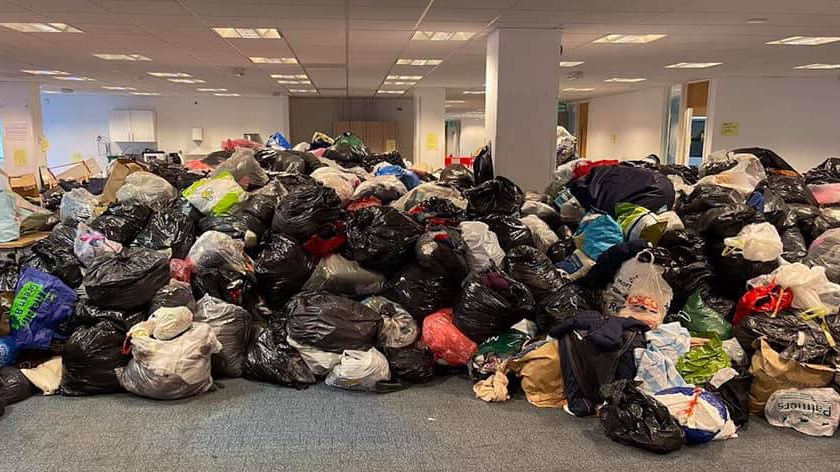 Lib Dem Cllr Paul Trendall (Campbell Park & Old Woughton Ward) has taken to social media to name the people of Milton Keynes "the UK's most generous".
Families from Afghanistan have been placed in local emergency accommodation in Milton Keynes, after fleeing to escape the Taliban.
They arrived with nothing but the clothes on their back, with one refugee being told that they could only bring "one thing" with them when leaving the country - their child or family photos.
Milton Keynes Council recently had to pause donations due to receiving an 'overwhelming' amount from residents.
When the council originally started collections for the Afghan Evacuees, they committed to making sure that any surplus would be fed back into the charity supply chain in Milton Keynes.
Yesterday (02/9), Lib Dem Cllr Paul Trendall (Campbell Park & Old Woughton Ward) said: "We thought that would happen at the end of this operation, whenever that might be.

"Today marked a very important landmark.

"The overwhelming generosity of the people of Milton Keynes has made it possible to start feeding clothing, toys and baby equipment into local charities, not just before this is over, but before we have even finished sorting what has been donated."

Milton Keynes Council are currently awaiting collections or dispatch to local charities such as Baby Basics, MK Storehouse and the Winter Night Shelter.
Paul Trendall said: "What started as a collection for people who served the UK and had to leave their homes because they did, has turned into probably the biggest collection of things for the less fortunate in our community the town has ever seen.

"The wider community will benefit from this, and it is the wider community which has made it possible.

"Milton Keynes, the UK's most generous people."
People that are over 18-years-old and are double-jabbed can help sort through donations between 10am to 4pm each day.
Find out more about volunteering here.
READ MORE: Milton Keynes expected to support less than 100 Afghan refugees despite nearly 700 being placed in local hotels
READ MORE: Council staff support nearly 700 Afghan arrivals in Milton Keynes