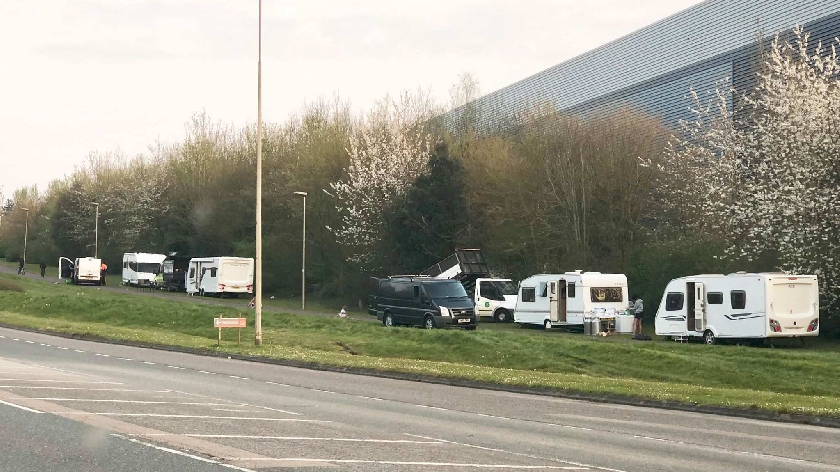 The MP for Milton Keynes South, Iain Stewart MP, says he has 'notified Police' about travellers who have set up next to a busy grid road in Milton Keynes.
A number of caravans and vehicles appeared on the V1 Snelshall Street near Tattenhoe yesterday, with further caravans and vehicles arriving today.
James Lancaster, Conservative Councillor for Tattenhoe Ward, said: "Residents are already worrying during these uncertain times, when last time there were burning going on which caused residents to keep windows closed. Not what is needed during this period."
"I have contacted Milton Keynes Council and Thames Valley Police and raised this issue with them. All the work on the bunds makes me question - "does this mean the bunds are ineffective in preventing Unauthorised Encampments?""
Iain Stewart, MP for Milton Keynes South, said: "The emergency Coronavirus legislation should give the police additional powers to disperse them if they are not observing social distancing; quite apart from the other enforcement powers they have."
Leader of Milton Keynes Council, Cllr Peter Marland, said: "The Council is aware of the encampment and has visited the site for an inspection. We have a number of injunctions in place against known individuals who have caused issues in the past."
"At the time the camp was not causing any noticeable issues and the travellers indicated they are passing through. We will continue to monitor the site."
"Enforcement of social distancing legislation is a matter for the police, who we have been working with since yesterday on the matter."
The location has been a hotspot for travellers over the past few years, although it is not known if the people who arrived this week are the same as in previous years.
In 2018, an MKFM video showed the mess left by a group of travellers in the same area and MKFM spoke to Mr Marland about the issue.