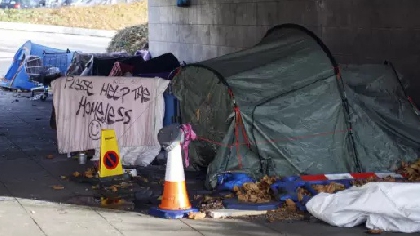 Local Conservative MPs Mark Lancaster and Iain Stewart are still yet to confirm a date for a debate on rough sleeping with the Labour Council Leader, despite Milton Keynes recently being declared as one of the worst areas for rough sleeping in the South East.
MKFM has been attempting to organise a head-to-head debate for a number of months, but both Mark Lancaster and Iain Stewart are yet to agree to a date for the debate.
Labour Council Leader Peter Marland immediately agreed to a debate but stated he couldn't attend on Fridays for personal reasons. In response, the local MPs have struggled to attend due to their London-based parliamentary work in the week.
MKFM have continued to add the pressure to the local MPs and are now awaiting final confirmation tomorrow morning that Mark Lancaster will be able to attend on Thursday 5th April at 7pm, a date agreed already agreed by Cllr Peter Marland.
The debate would be hosted in partnership between MKFM and the Milton Keynes Citizen.
Since our request Milton Keynes has been labelled as 'Tent City' by a number of national newspapers and charities have declared Milton Keynes as one of the worst areas in the South East for rough sleepers.
One rough sleeper has died since Christmas and tents have been used to buy and sell drugs by alleged 'fake' homeless people.
Cllr Marland will be taking part in a Facebook Q&A session on the MKFM Facebook page tomorrow morning at 10am discussing the topic.